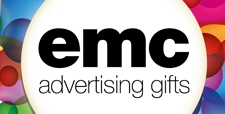 ... a more considered gift campaign, which the business has obviously put both thought and money behind, really does have a greater impact.
(PRWEB UK) 21 May 2015
EMC Advertising Gifts, the London-based specialist in promotional gifts, has observed a growing trend towards smaller advertising campaigns which use more expensive and thoughtful gifts for a higher impact, usually aimed at deepening customer engagement rather than bringing in new clientele. Trending items include technological gadgets and luxury chocolates.
Whilst bulk campaigns using low-cost items are still popular as an outbound marketing tool, companies are increasingly investing in customer engagement and retention. Giving more expensive gifts to a selected range of existing customers is an excellent way to increase and deepen customer engagement, especially in the current atmosphere of austerity, as they show the recipient that their business is truly valued.
The most noticeable increase has been in the sale of power banks, pocket-sized chargers for smartphones and other devices, which were a virtually unknown product just a few years ago. These items are particularly popular as a gift for corporate and business-based clients, as they are often reliant on mobile devices and thus find them particularly useful. Other high-impact gifts sold recently by EMC include Kingston branded data traveller USB drives, Uniball Kuru Toga mechanical pencils which use a gearing mechanism to rotate and propel the lead automatically, and luxury sets of Green & Black's tasting bars.
Speaking for EMC, Managing Director Simon Kay said; "It is always interesting to observe the changing trends in marketing items, and the fact that these more expensive items are trending upwards right now is absolutely fascinating. We hear so much in the news about cutbacks and austerity at the moment, and it means that a more considered gift campaign, which the business has obviously put both thought and money behind, really does have a greater impact."
Based in London, EMC Advertising Gifts are specialist suppliers and world-wide exporters of fully customisable printed promotional products and souvenirs. With over forty years of experience bringing personalised promotional merchandise to multi-national corporations, charities, SMEs and individuals worldwide, they utilise their expertise in creating customised branded products for business to make tangible and lasting impressions. The business is going from strength to strength with fantastic and varied relationships with some of the UK's most respected brands.
For more information on EMC Advertising Gifts, to browse their range of promotional gifts or to contact them about their products and services, please visit http://www.emcadgifts.co.uk.