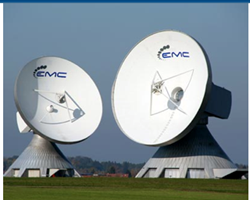 Leveraging our exhibition and presence at the event will reach a substantial portion of our target audience to differentiate our service and technology offering, as well as present our recent accomplishments and expectations for future growth."
Miami, FL (PRWEB) March 07, 2014
Global VSAT and terrestrial communications solutions provider Emerging Markets Communications (EMC) will be showcasing expanded services and new technology at the Satellite 2014 Conference and tradeshow from March 10-13th in Washington D.C.
Satellite 2014 is the premier conference focused on satellite communications, allowing attendees to discover the latest technologies and solutions available in the global marketplace. Hosted at the Walter E. Washington Convention Center in Washington, DC, Satellite brings together over 12,000 satellite industry professionals and offers attendees the opportunity to learn from and deliberate with thought-leaders in military/government, commercial, broadcast, maritime, mobility and telecommunications verticals via various panels, roundtables and user discussions.
"We are excited to demonstrate our enhanced services and new technology at Satellite 2014," said Abel Avellan, CEO of Emerging Markets Communications. "This venue presents a great opportunity to reveal our value proposition and enhanced footprint and capabilities in various verticals within the satellite communications industry. Leveraging our exhibition and presence at the event will reach a substantial portion of our target audience to differentiate our service and technology offering, as well as present our recent accomplishments and expectations for future growth."
EMC is collaborating with O3b Networks to deliver a live presentation titled "Boosting Performance in High Speed Satellite Networks" on Wednesday, March 12th from 1:00 to 1:30 pm. Led by Rick Forberg, EMC's Vice President of Product Development and Marketing and David Burr, O3b's Director of Product Development, this session will focus on new methods for increasing throughput and bandwidth efficiency. It will incorporate an overview of EMC's newly developed, cutting-edge MEO Booster technology and its application to the O3bTrunk product to provide unprecedented levels of efficiency, performance and economics.
To schedule a live meeting at Satellite 2014 with one of our sales executives please contact your EMC representative or EMC's Director of Sales Operations and Marketing, Nicole Aguillard: naguillard(at)emc-corp(dot)net.
About Emerging Markets Communications®
Emerging Markets Communications® is a global satellite and terrestrial communications company specializing in delivering mission-critical, network services for the global energy industry, mobile network operators, carriers, governments, NGOs and worldwide enterprises with locations in the most remote and/or challenging areas of the world. As a proven industry leader, Emerging Markets Communications® enables customers the agility, scalability and efficiency designed to facilitate growth for their global operations.
The company operates in 140 countries, with 27 global field support centers and wholly-owned infrastructure of teleports and terrestrial pops in US, Europe and Africa. Emerging Markets Communications® is financially backed by ABRY Partners; a firm specialized in funding the communications industry with $36 billion of completed transactions.
EMC Satcom Technologies, a division of Emerging Markets Communications, LLC, is a global satellite technology company specializing in delivering network products and solutions for the telecom industry, ISPs, governments, financial and industrial enterprises with locations in challenging and underserved areas of the world. EMC Satcom Technologies provides complete IP based satellite network systems, under the SatLink® brand, compliant with DVB-S2 and DVB-RCS2 standards, which operate in all satellite bands. Other products include the bandwidth saving Noise Reduction System (NRS), the PowerBooster and MEO Booster, HDConnect, and SpeedNet, a zero-latency browser for use over satellite. These products are in use globally and serve end-users with fixed and mobile communication requirements. R&D for EMC Satcom Technologies is based in Norway.
For more information, call 1+305-539-1358, email sales(at)emc-corp(dot)net or visit http://www.emc-corp.net. Connect with us on Linked-In or Twitter @emergingmktscom.
Media Contact – Nicole Aguillard, naguillard(at)emc-corp(dot)net or 1+ 713-213-9742