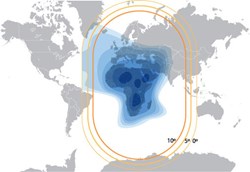 EMC's investments in Nigeria enable us to deploy and maintain VSAT and terrestrial networks faster than any other provider.
Miami, FL (PRWEB) October 24, 2013
Emerging Markets Communications (EMC), a global satellite and terrestrial communications solutions provider, announced today it has been issued a license from The Petroleum Regulatory Agency of Nigeria to provide services directly to oil and gas companies in Nigeria. EMC is the first global VSAT and terrestrial network provider to obtain a DRP (Department of Petroleum Resources) license in Nigeria. Additionally, EMC has a VSAT license in Nigeria which allows the company to provide satellite connectivity services directly to customers in the country.
The DRP and VSAT licenses enable global oil and gas customers to procure satellite and terrestrial connectivity services directly from EMC, enabling faster deployments, secure transactions, reliable and scalable service. Typically, international energy companies operating in Nigeria, requiring satellite or fiber networks, are forced to use small, local providers with limited capacity, and no added-value to the solution. Customers can now leverage one vendor, EMC, for their connectivity requirements in Nigeria and Africa.
"Nigeria continues to be a strategic market for EMC, as the country attracts the largest global oil and gas companies," said Blake McLane, President of Emerging Markets Communications. "Our investments in Nigeria enable us to deploy, maintain and service VSAT and terrestrial networks for our customers faster than any other provider. The DRP license positions EMC as a direct provider to the customer, further expediting our ability to deploy satellite network services for the oil and gas industry in Nigeria."
The DRP license completes EMC's end-to-end connectivity service in Nigeria which includes: licensing for customers, import/exporting equipment, 45-day deployment, spare parts, preventive and corrective maintenance.
Largest VSAT & Terrestrial Network Provider in Africa
EMC has over 10 years of experience and extensive infrastructure throughout Africa, and is the largest provider of VSAT and terrestrial connectivity, with coverage in all 54 countries. EMC has strategically invested in the major oil and gas hubs in Africa, including Nigeria, South Sudan, Angola, Kenya, DRC, Cameroon, Sierra Leone, Ghana and Chad. With 13 in-country support facilities on the continent, staffed with its own engineers, EMC has the fastest deployment time in the industry in Africa.
West Offshore Africa VSAT Capabilities
EMC's satellite connectivity capabilities extend to offshore West Africa as well, with a significant number of maritime and offshore rigs installments in the region. The maritime vessels that EMC services include pipelay and construction, work barge, multi-purpose ships that travel along the Nigerian Coastline and roundtrips from the Gulf of Mexico. Offshore rigs are located throughout the West African coast. Customers in this region are supported by EMC's field locations in Angola, Nigeria, Cameroon, Sierra Leone and Senegal.
Emerging Markets Communication's unique satellite connectivity offering includes a global C-band and Ku-band footprint for high availability enterprise networks, with the largest number of wholly-owned field support locations in the industry. EMC owns and manages 32 in-country field support centers worldwide. These support centers are staffed with EMC-certified engineers, spare parts, test equipment and manage all logistics in deploying, maintaining and repairing services for onshore and offshore customers.
About EMC
Emerging Markets Communications, Inc. (EMC) is a global satellite and terrestrial communications company specializing in delivering mission-critical, network services for the global energy industry, maritime, mobile network operators, carriers, governments, NGOs and worldwide enterprises with locations in the most remote and/or challenging areas of the world. As a proven industry leader, EMC enables customers the agility, scalability and efficiency designed to facilitate growth for their global operations. The company operates in 150 countries, with 32 global field support centers and wholly-owned infrastructure of teleports and terrestrial pops in the United States, Europe and Africa. EMC is financially backed by ABRY Partners; a firm specialized in funding the communications industry with $36 billion of completed transactions.