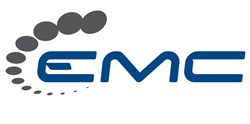 Miami, FL (PRWEB) January 30, 2014
Global satellite (VSAT) and terrestrial connectivity provider Emerging Markets Communications (EMC) announced today it has enhanced its technology and infrastructure to deliver VSAT mobility services, currently active aboard trains across Africa and Europe. These services utilize EMC-owned SatLink® VSAT technology, which include enhanced mobility features for land, sea, and aerospace deployments.
EMC recently completed upgrades for train operators in Africa utilizing EMC's SatLink® Mobile VSATs enhanced for mobility services. EMC's solutions for trains utilize high-performance, low profile mobile satellite antennas and SatLink® Mobile VSATs to enable broadband connectivity and a means to constantly monitor GPS location information for enhanced safety. These specialized antennas automatically stay locked to the satellite beam to provide uninterrupted service.
"We are excited to have such robust mobility services available, which have proven excellent on board these trains," said Payam Herischi, EMC's President of Network Systems and CCO. "Our technology not only enhances safety and improves monitoring and oversight, it also enables excellent, profitable services for passengers, including broadband Internet, voice services, and content distribution."
In order to provide reliable service, the SatLink® VSATs work with the corresponding features implemented in SatLink® Hubs which allow for mobility at very high speeds (up to 350 kilometers per hour) and in constant motion in all directions. With this technology, passengers can enjoy:

Broadband IP connectivity for public Internet access and VPNs
VoIP (Voice over IP) in remote areas
Content distribution and digital signage
The SatLink® 2900 & 2910 Mobile VSATs provide the advanced capabilities required for land, sea, and aerospace deployments, including global roaming with access to 10 different beams for continuous two-way satellite communications. Parameters for up to 20 Forward Links can be stored, enabling seamless transitions between beams. The VSAT's software is specially adapted for harsh environments and the constant roll and pitch of the seas, making it less susceptible to outages, and the unit is equipped with a GPS interface for fast, automatic logon and synchronization.
To contact EMC and learn more about EMC's Mobility Services, click here.
About EMC
Emerging Markets Communications (EMC) is a global satellite and terrestrial communications company specializing in delivering mission-critical network services for the global energy industry, mobile network operators, carriers, governments, NGOs and worldwide enterprises with locations in the most remote and/or challenging areas of the world. As a proven industry leader, EMC enables customers the agility, scalability and efficiency designed to facilitate growth for their global operations. The company operates in 140 countries, with 34 global field support centers and a wholly-owned infrastructure of teleports and terrestrial PoPs in US, Europe and Africa. SatLink® is EMC's premium TDM/TDMA satellite networking solution. As the only product available with DVB-RCS2, it leads the industry in terms of reliability, efficiency and speed. Under contract to the European Space Agency, EMC developed key parts of the superior DVB-RCS2 technology. EMC is financially backed by ABRY Partners, a firm specialized in funding the communications industry with $36 billion of completed transactions.