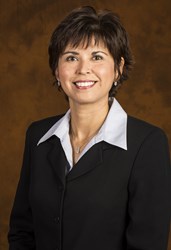 Avondale, AZ (PRWEB) October 30, 2013
After an extensive national search, Estrella Mountain Community College (EMCC), a Maricopa Community College, is pleased to announce that Dr. Patricia Cardenas-­Adame has been selected as EMCC's new vice president of Student Affairs. Cardenas-­Adame will begin her new role on Dec. 2, 2013.
Cardenas-­Adame has more than 20 years of experience in higher education, during which time she has worked at four colleges: Glendale Community College, Mesa Community College, Rio Salado College, and California State University Monterey Bay. She has held the following leadership positions; interim president, vice president of student affairs, and dean of both student affairs and student life.
Throughout her career, Cardenas-­Adame has adopted a personal mission that includes, "To be the conduit for active and creative learning environments". She has committed to asking the questions, "What do we want students to learn or be able to do as a result of the services and programs we provide?" and, "How do we know that we have been successful? How will the learning be assessed?". This philosophy has helped guide student success initiatives that she has developed in a variety of professional roles at university and community college institutions. Her career in higher education has ranged from teaching in the classroom to the administration of support services.
Active in student affairs professional organizations, Cardenas-­Adame has served as program co-chair for the regional National Association of Student Personal Administrators (NASPA) Conference as a member of a NASPA Knowledge Community, where she had oversight in the NASPA "Enough is Enough" antiviolence initiative.
Cardenas-­Adame was also involved with the National Association of Student Employers Association in revitalizing the "Student Employment of the Year Award" and was a program evaluator for the National Academic Advising Association and the American Association of Collegiate Registrars and Admissions Officers. She has also been involved in both regional and national multicultural initiatives for the National Association of Student Financial Aid Administrators and participated as a faculty member for the Bryn Mawr National Institute for Women.
Cardenas-­Adame has presented at local Pacific Association of College Registrars and Admissions Officers conferences and continuously maintains active membership in a number of state, regional, and national student affairs organizations.
Cardenas-Adame's has a Doctor of Philosophy - Higher Education Administration, Capella University; Master of Arts - Human Resource Management, Emmanuel College; and Bachelor of Science - Secondary Education, Texas A&M, Kingsville.
Estrella Mountain Community College offers transfer-ready academic courses and job-specific occupational training to approximately 13,000 students annually. The flagship campus is located on Thomas and Dysart Roads in Avondale and is home to the SouthWest Skill Center. The satellite campus, EMCC's Buckeye Educational Center, is located in downtown Buckeye. Estrella Mountain is one of the 10 regionally accredited colleges in the Maricopa County Community College District, one of the largest community college districts in the nation.