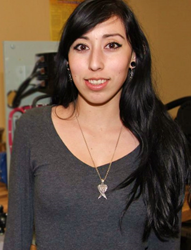 Industries like nuclear energy need confident women who want to impact the future. --Fadwa Sandoval
Avondale, AZ (PRWEB) February 26, 2015
This month Estrella Mountain Community College (EMCC) is honoring recent Power Plant Technology (PPT) program graduate, Fadwa Sandoval, as the first Arizona student to receive an accredited and nationally-recognized nuclear certification.
Launched at EMCC in the summer of 2012, the Nuclear Uniform Curriculum Program (NUCP) is a certification offered to degree-seeking students pursuing a career in the nuclear energy industry. The certification is a component of the college's PPT degree pathway, and is recognized by all U.S. nuclear power plants. EMCC is currently the only college in Arizona accredited to offer the NUCP to students, and is proud to announce its first recipient of this distinction.
On February 12, Sandoval was formally recognized as the first EMCC completer of the NUCP, which required her to achieve a grade of at least 80 percent in each core class of her PPT degree pathway. She was a member of the charter, cohort class of NUCP-eligible students and graduated from the PPT program in fall of 2014.
"We are thrilled to have Fadwa lead our program as the first NUCP graduate," said Dr. Clay Goodman, VP of occupational education at EMCC. "She has demonstrated what it means to be a leader by serving as a model student in our program."
Sandoval has always enjoyed math, science and hands-on learning, which motivated her to pursue a career in the nuclear energy industry. She is hopeful that her story can inspire other talented young women who may be intimidated by the thought of working in an industrial environment.
"My advice to students entering the program is to take advantage of networking opportunities, and never compare yourself to others," said Sandoval. "Industries like nuclear energy need confident women who want to impact the future."
Beyond the classroom, Sandoval often volunteered to be a program ambassador at many outreach activities and events. This dedication presented her with the honor to work as an intern at Arizona Public Service's (APS) Palo Verde Nuclear Generating Station (PVNGS) in 2013, and attend a national Radiation Protection Forum in San Antonio, Texas.
"This program has given me confidence, skills and networking opportunities to feel well-prepared for a rewarding career," said Sandoval. "I'm excited about the next chapter of my journey."
Founded by the Nuclear Energy Institute (NEI), the NUCP aligns the hiring needs of industry partners with the curriculum offered at local colleges in an attempt to minimize on-the-job training required for a student after college graduation. EMCC and APS have partnered to offer the NUCP in five key areas: mechanical maintenance, electrical maintenance, instrumentation and control, radiation protection technology and non-licensed operations.
"Estrella Mountain is supporting the industry's commitment to knowledge and safety while helping to build the next generation of skilled workers for the U.S. nuclear industry," said Randy Edington, executive vice president and chief nuclear officer at APS, which operates Palo Verde.
On Thursday, March 5, from 6:00 to 7:30 p.m., EMCC will be hosting its biannual Energy Institute open house at the Palo Verde Energy Education Center, located at 600 North Verrado Way in Buckeye, Ariz. The event will showcase the PPT program, including industry partnerships and resources available to program students.
Attendees will be able to browse the hands-on facility, meet EMCC faculty and current students, interact with energy employers and learn about industry career opportunities. The event is free and open to the public, and is provided as an informational session. RSVP is required at energy(at)estrellamountain(dot)edu, or by contacting the EMCC Energy Institute, 623-935-8610.
# # #
Estrella Mountain Community College offers academic courses leading to associate degrees, university transfer, certificates and short-term job training to approximately 14,000 students annually. The flagship campus is located on Thomas and Dysart Roads in Avondale and is home to the SouthWest Skill Center. The satellite campus, EMCC's Buckeye Educational Center, is located in downtown Buckeye. Estrella Mountain is one of the 10 regionally accredited Maricopa Community Colleges, one of the largest community college districts in the nation.