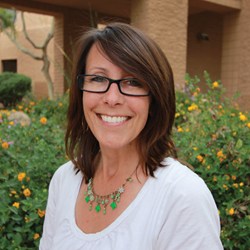 Kathleen is a very learning centered professional who cares deeply about the success of all EMCC students. --Dr. Bryan Tippett, VP of Academic Affairs at EMCC
Avondale, AZ (PRWEB) August 14, 2013
Dr. Kathleen Iudicello has been appointed as the new Dean of Academic Affairs at Estrella Mountain Community College (EMCC), one of the 10 regionally accredited Maricopa Community Colleges. This is a one-year-only (OYO) re-assignment position, filling the vacancy left by Dean Joyce Jackson who retired in June 2013.
As of August 1, 2013, Dr. Iudicello will provide leadership for the Divisions of Arts and Composition, Behavioral Science and Cultural Studies, Modern Languages, the Center for Teaching and Learning, E-learning, the Learning Enhancement Center, and Instructional Support Services.
"Kathleen is a very learning centered professional who cares deeply about the success of all EMCC students," said Dr. Bryan Tippett, EMCC Vice President of Academic Affairs, who made the announcement on August 7.
Dr. Iudicello past and current roles include Division Chair for Arts and Composition and the former Division of Liberal Arts, EMCC Faculty Senate President, Faculty Association President (district), and numerous college and district committees.
She began her professional career at EMCC in 1997 as a member of the faculty teaching English. Since that time she has continued to grow professionally as a professor and as a leader. She has forged partnerships with local high schools and other organizations, internally and externally. Additionally, she has served as the 2012 Self-Study writer for EMCC's re-accreditation process, and provided leadership at both the college and district levels for the development of the assessment of student learning outcomes program.
Dr. Iudicello attended Scottsdale Community College before transferring to Arizona State University where she received both a Bachelor of Arts and Master of Arts degree in English. Dr. Iudicello also holds a Master of Arts and Doctor of Philosophy in English from The George Washington University, and is a published member of the professoriate.
Estrella Mountain Community College offers transfer-ready academic courses and job-specific occupational training to approximately 15,000 students annually. The flagship campus is located on Thomas and Dysart Roads in Avondale and is home to the SouthWest Skill Center. The satellite campus, EMCC's Buckeye Educational Center, is located in downtown Buckeye. Estrella Mountain is one of 10 regionally accredited colleges in the Maricopa County Community College District, one of the largest community college districts in the nation.