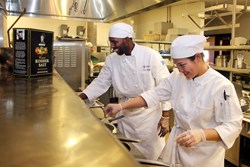 We operate Regions Restaurant as an extension of our culinary classroom, and it teaches basic skills that will be mastered as the students work with future employers and chef mentors. --Steve Griffiths, program director
Avondale, AZ (PRWEB) August 27, 2013
Regions, Estrella Mountain Community College's (EMCC) academically-focused restaurant, re-opens Wednesday, August 28, for the fall 2013 semester.
Open to the public, individual guests and groups are invited to enjoy lunch prepared by students enrolled in the Culinary Institute, who are training for careers in professional food service. The restaurant serves only on Wednesdays and Friday, and is located in Komatke Hall on the EMCC campus, at 3000 North Dysart Road in Avondale.
Regions has developed a favorable following and reputation for serving a delectable lunch at a very affordable price. The cost for the three-course meal is $10.00, plus tax, and features creative cuisines with an array of dessert selections. All revenues from Regions are invested directly back into the program.
"We operate Regions Restaurant as an extension of our culinary classroom, and it teaches basic skills that will be mastered as the students work with future employers and chef mentors," said Steve Griffiths, program director. "It is the first step of a challenging, but personally rewarding journey for those who aspire to be professional chefs."
EMCC offers an Associate in Applied Sciences (A.A.S.) degree in Culinary Studies, which is also transferrable to Northern Arizona University's bachelor's degree program in Hotel and Restaurant Management. Plus, Certificates of Completion are offered in the areas of Baking and Pastry, and Culinary Studies.
Lunch service begins at 11:30 a.m. with the last seating at noon. Reservations are required and can be made atregions(at)estrellamountain(dot)edu or (623) 935-8396.
For community members who would like to develop their own culinary talents, the Culinary program is also offering Community Education courses this fall on the EMCC campus. The individual classes are open to the public and are low-cost, non-credit, short courses for the fun of learning. To register for one or more of the classes, call the EMCC Community Education office at (623) 935-8888.
The Wonderful World of Pizza
Saturday, October 5
9:00am-12:30pm
Cupcake Wars
Saturday, October 12
9:00am-1:00pm
Mediterranean Menu
Saturday, October 19
9:00am-12:30pm
Bread Basket
Saturday, October 26
9:00am-3:00pm
The Science of Salad
Saturday, November 2
9:00am-12:30pm
The Fruit Tart
Saturday, November 9
9:00am-12:30pm
Holiday Apple Pie
Saturday, November 16
9:00am-12:30pm
Comfort Food
Saturday, November 23
9:00 am-12:30pm
Kids College-Holiday Baking
Saturday, December 7
8:30am-4:30pm
Holiday Buche de Noel
Tuesday, December 17
6:00pm-9:30pm
# # #
Estrella Mountain Community College offers transfer-ready academic courses and job-specific occupational training to approximately 15,000 students annually. The flagship campus is located on Thomas and Dysart Roads in Avondale and is home to the SouthWest Skill Center. The satellite campus, EMCC's Buckeye Educational Center, is located in downtown Buckeye. Estrella Mountain is one of 10 regionally accredited Maricopa Community Colleges.