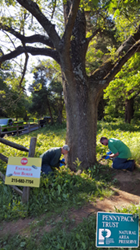 Without treatment, Emerald Ash Borer will kill an Ash tree in 1-3 years.
Philadelphia, PA (PRWEB) June 13, 2016
Emerald Ash Borer are spreading quickly through the Philadelphia region and killing Ash trees. Treatment is available to protect Ash trees from this deadly pest. Giroud Tree and Lawn recently donated the crew and Tree-age trunk injections to help two stately, valuable Ash trees at Pennypack Trust.
"The best protection against Emerald Ash Borers is Tree-age trunk injections which provide control for up to two years," says Drew Slousky, ISA Certified Arborist and Vice President of Giroud Tree and Lawn, a tree service company. "Without treatment, Ash trees infested with Emerald Ash Borer, decline quickly and usually die within 1-3 years depending on size."
Considered the most destructive forest pest ever seen in North America according to http://www.emeraldashborer.info, Emerald Ash Borer kill Ash Trees when the larvae tunnel beneath the bark, stop food and water movement and starve the tree to death.
Property owners living in the Philadelphia region need to take action to protect Ash trees that are a valuable part of the landscape. The following steps help to ensure Ash trees are properly evaluated and treated:

Contact a professional tree service and have an ISA Certified Arborist inspect the property to identify high value Ash Trees and determine the best treatment.
Check that the technicians doing the Emerald Ash Borer treatments are PA Licensed Applicators.
Ensure the technician has special training in trunk injections including how to correctly calculate the right dosage for the size of the tree and proper set up of the injection system to provide full protection.
Early detection and treatment to control Emerald Ash Borer are keys to preserving Ash trees. To be successful, treatment must begin while the tree is still healthy enough to fully absorb the injection. Giroud Tree and Lawn has been protecting Ash trees with trunk injections since 2012 when Emerald Ash Borer was first discovered in the Philadelphia area.
About Giroud Tree and Lawn
Giroud Tree and Lawn specializes in tree service, tree removal and lawn care programs that make customers love doing business with the company since 1974. Serving Bucks, Montgomery and Philadelphia Counties, the company offers professional tree and lawn evaluation, tree pruning, tree removal, insect and disease control, fertilizing, stump removal and traditional and 100% organic lawn programs to keep lawns healthy and green . Giroud Arborists are certified by the International Society of Arboriculture (ISA) and have the knowledge and experience required to properly diagnose, treat and maintain trees and lawn health. The company is Accredited by the Better Business Bureau and has been awarded the Angie's List Super Service Award® every year since 2005. The "Giroud Treework for Charity" program donates free tree care services to parks, historical sites and other non-profit organizations located in the Company's service area. For more information, visit the company website at http://www.giroudtree.com or call 215-682-7704.
About Pennypack Trust
The Pennypack Ecological Restoration Trust is a private, non-profit land conservancy located in Huntingdon Valley, Pennsylvania. As the steward of 812 acres of protected meadows, woodlands and floodplain forest, the Trust manages Montgomery County's second-largest privately owned natural area that is open to the public. The lands within the Trust's natural area, the Pennypack Preserve, are located in the townships of Abington, Upper Moreland and Lower Moreland and in the Borough of Bryn Athyn. Over 1,200 dues-paying members support the Trust, and the preserve hosts 20,000 visitors annually. Trails are open to the public 7 days a week from 8 a.m. to dusk. For more information, phone Pennypack at 215-657-0830, or visit pennypacktrust.org.