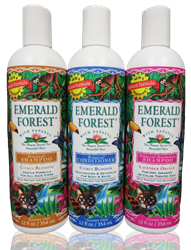 Our customers asked for all natural shampoo and we delivered.
Encinitas, CA (PRWEB) June 17, 2014
Emerald Forest®, a Natural Tropix Corporation brand of botanical hair care products, is excited to announce its rainforest inspired hair care products are all natural & sulfate-free.
Following two years of extensive research and study, Emerald Forest products have been reformulated with gentle, safe, effective and natural ingredients. The products use plant based & naturally derived ingredients and are naturally scented with botanical extracts and pure essential oils (no artificial fragrance).
Emerald Forest products are made without sulfates, gluten, petrochemicals, parabens, phthalates, polymers, propylene glycols, artificial fragrances and animal testing.
"We are excited about our all natural products. Our customers asked for all natural shampoo and we delivered," said Natural Tropix principal, Molly Chadwick. "The products were reformulated to meet or exceed the standards for certification by the Natural Products Association and Whole Foods Premium Body Care, while keeping our signature Sapayul oil & botanical ingredients."
Emerald Forest hair care products contain the special rainforest ingredient Sapayul oil, known for its beautifying and moisturizing properties. Sapayul oil comes from the seeds of Sapote, a fruit indigenous to the Central American rainforests and an ancient Mayan secret for beautiful, soft, and shiny hair.
Emerald Forest all natural products:
Botanical shampoo (Citrus Blossom), a gentle botanical shampoo with Sapayul & Babassu oils, rainforest & botanical extracts, vitamins, protein and citrus essential oils to help strengthen, condition and leave hair healthy & soft.
Botanical conditioner (Citrus Blossom), a lightweight botanical conditioner with nourishing oils of Sapayul, Babassu & Olive, rainforest & botanical extracts and protein help build strength and elasticity for healthy hair.
Moisturizing shampoo (Lavender Orange), a shampoo for dry, damaged or color treated hair. Nourishing oils of Sapayul, Kukui & Macadamia, vitamins, protein, rainforest & botanical extracts and lavender essential oils help add moisture and restore hair texture and strength.
Size, Packaging & Price - 12 fluid ounces, recyclable plastic bottle, colorful rainforest scene, suggested retail $9.99
Emerald Forest is available at Natural and Health Food stores nationwide. To find out more information about Emerald Forest and its botanical hair care products, visit the company's website at http://www.NaturalTropix.com.
About Emerald Forest
Since 1992, Emerald Forest botanical hair care products have been inspired by the rainforest and made with its signature ingredient, Sapayul oil. Natural Tropix Corporation remains committed to the future of our planet by donating a portion of its proceeds to support rainforest preservation organizations. Emerald Forest botanical hair care products are made in the USA and available at natural and health food stores nationwide and through major wholesale distributors including Threshold Enterprises and UNFI.
Media Contact:
Molly Chadwick
Natural Tropix Corporation
Phone: 760-633-0110
Email: media(at)NaturalTropix(dot)com
Web: http://www.NaturalTropix.com