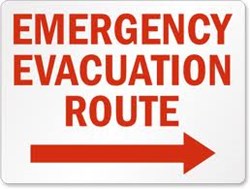 It is important for homeowners to have an effective plan for emergency situations of all kinds in order to ensure their families safety at a moments notice.
Denver, Colorado (PRWEB) January 12, 2014
Unfortunately, emergencies can strike at any time, and the very nature of an emergency is that it's unexpected. Rather than denying the likelihood of something like a break-in or a natural disaster is going to occur, it's better to be prepared. Families should create plans for how the emergency will be handled, as well as communication tactics. The team at SecuritySystemReviews.com, a site that provides reviews of the top home security companies including Vivint reviews and Protect America reviews, has created a valuable list of tips to help people when they're creating emergency plans.
1. Plan for at least two ways to escape every room in a home.
2. Purchase escape ladders for windows that are located on upper floors of a home, and have the entire family practice using them.
3. Know the regional evacuation routes in case of natural disaster—this information can be found by checking with local and state officials.
4. Create and communicate a meeting place if something happens and family members are in different locations during an emergency. It's also a good idea to have a back-up location.
5. Don't forget to account for family pets in the emergency planning process.
6. Designate a member of the family to be in charge of coordinating all communications. It's best to choose a person who lives in another area, in case phone service isn't working.
7. In order to keep lines of communication open, even during an emergency, families should consider purchasing an uninterruptable power supply to use with their internet router. This will at least ensure the internet works for long enough to send out emergency messages.
8. Keep an emergency kit and a battery-operated radio at home at all times.
9. People should create a map of their home, and label all exits including doors and windows. The location of fire extinguishers should also be clearly marked, and the shut-off valves for the gas and electricity.
10. All emergency plans should be written down, so that everyone in the house has a clear understanding of the plan.
11. Have regular family meetings to reinforce the emergency plan, or to update everyone if there are changes.
Even with the best security system, emergencies can still occur. It's important to develop escape plans, and outline what should be done in case of any type of unexpected situation. It can mean the difference between life and death.
About SecuritySystemReviews.com
SecuritySystemReviews.com is an established independent, third-party resource for consumers in the U.S. searching for information about home security systems. Residents all over the country, whether they're searching for information about Delaware security systems or Colorado security systems, can turn to Security System Reviews to receive unbiased and vital information, as well as coupons and discount codes.