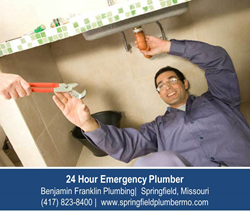 Springfield, MO (PRWEB) April 22, 2014
Top plumbing firm in Springfield, MO adds a plumbing emergency "Push to Talk" button to its popular website. This innovative tool makes it possible to establish voice contact with the company in less than a minute. Benjamin Franklin Plumbing has earned the reputation as a punctual plumbing company, responding quickly to the needs of their customers. Now, adding this function to their website makes it even easier to reach an emergency plumber when needed.
Many situations arise where prompt access to a professional plumber can save time, money, and more extensive repairs. When these occur, homeowners are often too flustered or unable to access a phone number or cannot take the time to look for a number. With this Push to Talk option, customers can simply do a quick search from any computer, smartphone or smart mobile device, click the button, and be talking to a company representative in less than sixty seconds.
Benjamin Franklin Plumbing professionals noted their ongoing efforts to anticipate the needs of their customers. This additional capability allows the company to provide that next level of service when customers need them most. Benjamin Franklin Plumbing keeps a fully qualified plumbing team on standby 24/7 through all weekends and holidays. They recommend that Springfield MO residents bookmark the website for easy access in the event of a plumbing emergency.
While the Push to Talk option is designed for emergencies, customers are welcome to select the button at any time they wish to make contact with Benjamin Franklin Plumbing for all plumbing services.
About Benjamin Franklin Plumbing
Benjamin Franklin Plumbing is a full service plumbing company serving Springfield, Missouri and surrounding areas. The company provides plumbing repairs, service checks, installations and many other services to residential customers. All technicians are paid by the job, not by the hour and the company offers a straightforward written pricing guide to avoid surprises and misunderstandings.
Springfield's Benjamin Franklin Plumbing is locally owned, but as part of an established national brand, the company is able to offer exceptional service, repair and on-time guarantees. Emergency plumber services available. Call 24 hours a day to reach a top-quality professional.
Contact:
Frank Elston
http://springfieldplumbermo.com
Benjamin Franklin Plumbing
3378 S. Scenic Ave, Suite C
Springfield, MO 65807
(417) 823-8400