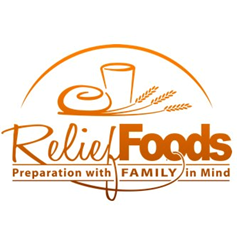 In emergencies, water and food for your family is one of your first considerations.
Farmington, Utah (PRWEB) October 03, 2015
Relief Foods Emergency Food Storage Tips
As the east coast prepares for Hurricane Joaquin, ReliefFoods.com says planning for your family's food and water needs is most important.
"During a hurricane you could be without power and water for hours, days, or even weeks, so you have to be prepared," said Braydon Bailey of ReliefFoods.com. "In that time everything in your refrigerator and freezer won't be good. It's likely the store shelves will be cleaned out."
Relief Foods recommends focusing on two things when buying food storage: shelf life and easy preparation. In emergencies, water and food for your family is one of your first considerations.
Here are 7 tips to prepare for a hurricane:
1. Water is a priority. You can last for weeks without food but just days without water. Store water to drink and to use for cooking. Fill buckets and even the bathtub with water for non-cooking needs. It could be necessary if water isn't potable for a few days. The recommended amount is 1 gallon of water for each person in your house for 3 days.
2. Have food ready for meals that do not require cooking or minimal cooking.
3. Prepare foods that do not require you to open the fridge/freezer. Use a cooler with ice for foods you'll need in the short term. That way you can keep the cold air and not have to replace everything if the power comes back on in a reasonable amount of time.
4. Focus on comfort foods. You may be stuck inside for a day or more with no power to for air-conditioning/heat or entertainment that requires electricity. During the stress of being inside for hours with a storm raging outside, most (especially children) won't want gourmet food, we'll want comfort food.
5. Make sure to get protein. It may be easy to eat snacks but make sure you have enough protein, such as dried meats or hard boiled eggs.
6. Have foods on hand that are nutritionally dense.
7. To be safe, plan on food that will give you the needed calories that are filling with sustainable energy. During a crisis it's likely you'll be more stressed, very important to have a food source that gives longer sustainable energy.
About Relief Foods
ReliefFoods.com produces a high-value, long-lasting, easy solution to food storage. We offer preparation for life's unforeseen events with your family in mind. Each of our products has been developed to provide relief to individuals and families during times of crisis. Our business and our products are founded upon the idea of being the value leader. To be a value leader we produce our products with equal attention to both quality and price.
Order food storage online at http://www.ReliefFoods.com