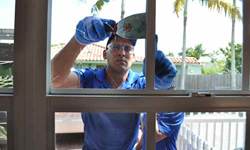 We take hurricane seasons very seriously but we recognize the importance of planning and that includes Twitter
Miami, Florida (PRWEB) September 20, 2017
September 20, 2017 - Miami, FL
Express Glass (http://www.expressglassfl.com), Miami's favorite glass window repair service, is proud to announce its Twitter strategy in light of Hurricane Seasons 2017. With hurricane season in full, threatening swing, the company is alerting its customers to its Twitter page as a source for realtime information.
"We take hurricane seasons very seriously but we recognize the importance of planning and that includes Twitter," announced Yaniet Santos, general manager at Express Glass. "We are issuing this announcement to alert our customers to our Twitter feed at https://twitter.com/expressglassfl which is a great place to go to learn about glass repair issues, including any updates should a major storm hit Miami or nearby South Florida cities."
Persons who want a general overview to the company's glass window repair services should visit http://www.expressglassfl.com/home-window-repair/glass-window-repair/. It should be noted that the company does NOT fix auto or mobile phone glass.
Interested journalists and bloggers can reach out to the company for interview opportunities as we experience the peak of hurricane season 2017.
Glass Window Repair in Miami, Florida: Using Twitter Before, During, and After an Emergency
Here is background to this announcement. Because of its asynchronous nature, Twitter has proven very popular as the social media network to which people turn for news. Unlike a phone call, for example, the message sender and the message receiver do not have to be on the phone at the same, synchronous time. In this way, a company such as Express Glass and Board Up can use its Twitter feed to send out alerts as to services that are available to the general public. Express Glass and Board Up has long been a leader in the glass repair industry not only in Miami but throughout all of South Florida in how it has utilized social media to communicate.
The company is issuing an alert with respect to its Twitter feed to increase awareness of its customer base in light of threatening hurricanes that may, or may not, impact South Florida. Many of the younger customers are heavy users of social media, and by issuing this announcement, the company wishes to draw their attention to its Twitter account. Should Miami and all of South Florida be fortunate enough to avoid a direct hit from a hurricane, it is also true that the company's Twitter feed has an ongoing purpose to educate and inform both homeowners and commercial businesses in Miami on various issues with respect to glass repair.
About Express Glass Repair and Board Up
Express Glass and Board Up Service Inc. is a family owned and operated glass repair business with more than 20 years of experience. Their professional technicians and the large variety of inventory make Express Glass the top glass repair service. If customers are looking for Miami sliding glass door repair or Ft. Lauderdale glass repair as well as glass repair in West Palm Beach, please reach out to the company for a free estimate. If customers need a 24/7 Sliding Glass Door repair service in Miami or Boca Raton or Miramar, technicians are standing by. The company specializes in sliding glass door repair and window glass repair; technicians will handle any glass replacement situation efficiently. Home or business glass repair is the company's main priority.
Express Glass Repair and Board up
http://www.expressglassfl.com/