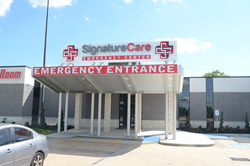 Houston, TX (PRWEB) June 15, 2017
SignatureCare Emergency Center has opened its fifth Houston-area location, and seventh Emergency Room, SignatureCare Emergency Center – Stafford. They are formally celebrating their opening with a Ribbon Cutting and Open House event on June 15th, from 11am – 6pm.
The ER's Ribbon Cutting Ceremony will have Ms. Monkey's Party Emporium as special guests. The ER is located at 3531 South Main Street, Stafford, Texas 77477. There will be music, prizes and food for all of the attendees. The celebration is open house style and SignatureCare encourages their Stafford neighbors to stop buy anytime between 11am and 6pm to join in the festivities and celebration.
"We encourage our neighbors to stop by and celebrate our official Ribbon Cutting for Stafford," said Braun. "We will have activities to entertain the kids, as well as plenty of entertainment for the adults, we are so excited to share our expansion into the Stafford community."
SignatureCare Emergency Center – Stafford will include the full-time emergency services the other seven Texas locations offer. This includes trauma and injury care from board-certified doctors and nurses, imaging and laboratory services, and a comfortable environment. The staff at SignatureCare are equipped to deal with most emergency medical situations for both adult and pediatric patients. The ER is open 24 hours a day including all holidays.
For more information on the opening of SignatureCare Emergency Center – Stafford, visit: http://ercare24.com/stafford/
About SignatureCare Emergency Center
Licensed by the Texas Department of Health Services, SignatureCare Emergency Centers are freestanding emergency rooms that are always open. SignatureCare has multiple locations in the Houston area with each offering state-of-the art medical imaging, and X-rays. All our emergency rooms are fully staffed with medical professionals, including board-certified physicians, licensed nurses, radiology technicians, and emergency-trained ancillary staff. All SignatureCare Emergency Centers are open 24/7- 365 days a year.
For more information on SignatureCare Emergency Center and its other locations visit http://ercare24.com/stafford