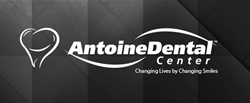 Houston, TX (PRWEB) January 24, 2017
Dr. Behzad Nazari, founder of Antoine Dental Center, announces that his dental office is now offering emergency dental care for knocked-out and broken teeth. Teeth that undergo these types of damages can be the source of not only pain, but also serious infection risks. Prompt treatment for teeth that are broken or knocked out offers the best chances of repair when possible. With emergency appointments at Antoine Dental Center, patients have access to comprehensive exams and all treatment options.
Severely damaged teeth sometimes require dental extraction, but keeping the teeth in the mouth is often preferred. This way, patients can continue to enjoy the comfort and functionality of their own teeth, as well as a minimal risk of experiencing additional problems, such as shifting. Injuries can knock out or break teeth partially or completely, but an emergency dentist may be able to save teeth depending on their condition. For many patients, a broken or knocked-out tooth requires root canal treatment, in which the pulp is removed and replaced with medicated packing. Afterwards, the tooth may be covered with a crown for long-term protection.
Antoine Dental Center provides a full line of treatments to patients. Preventive care, such as routine exams, cleanings, and fluoride, is available. Patients can also receive several restorations, such as tooth-colored fillings and crowns. Periodontal care is offered for treatment of gum disease, including early gingivitis and advanced periodontitis. Cosmetic treatments provided by the office include teeth whitening, veneers, and bonding.
Dr. Nazari, a general and emergency dentist with eighteen years of experience, was a registered pharmacist before going to dental school. He earned his pharmacy degree at Texas Southern University in 1991, and graduated with honors and his DDS from University of Texas at Houston Dental Branch in 1998. Accumulating more than 1,800 hours of continuing education over the course of his career has helped Dr. Nazari offer a full range of the latest dental treatments. A reputable member of several organizations in his profession, Dr. Nazari is also a graduate of the well-known Kois Center Training Facility, located in Seattle, Washington, where he broadened the skill set he offers to patients.