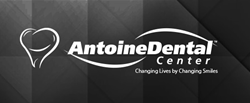 Houston, TX (PRWEB) March 17, 2017
Houston emergency dentist, Dr. Behzad Nazari, announces that his dental office, Antoine Dental Center, is now offering emergency dental appointments to treat tooth pain and gum swelling. Tooth pain and swollen gums can both indicate emergency dental problems, specifically infections. Early infections of the teeth and gums can cause pain and swelling, but systemic problems can develop if an oral infection is not treated quickly enough. Seeking treatment promptly can also potentially save patients money on treatment.
Tooth infections are often treated with root canal therapy. By saving an infected tooth with this treatment, patients can avoid requiring tooth extraction and replacement. Root canal involves removing the infection and protecting the tooth. First, a hole is drilled into the infected tooth so that the pulp can be accessed. Next, the infected tissue is removed and replaced with a medicated packing material. A filling is put in the tooth to seal out bacteria that could restart the infection. Finally, the tooth is covered with a crown, which protects it and keeps it looking good.
Emergency dental care is only one of many services provided at Antoine Dental Center. A full selection of general dentistry, cosmetic care, orthodontics, and more is available. Restorations, such as fillings, inlays, and onlays, are available in tooth-colored form for aesthetically appealing results. Cosmetic treatments at the office include teeth whitening, Zoom whitening, veneers, and smile makeovers. Patients can have their teeth straightened with orthodontics, including Invisalign. Finally, patients can also receive preventive care, such as fluoride and sealants, to reduce their oral health risks.
Emergency dentist Dr. Nazari has been treating patients in Houston for eighteen years. Before he became a dentist, Dr. Nazari graduated from Texas Southern University in 1991 and worked as a registered pharmacist. Dr. Nazari earned his DDS at University of Texas at Houston Dental Branch in 1998. An advocate of preventive dentistry, Dr. Nazari focuses on preventing dental problems as much as treating them. Through more than 1,800 hours of postgraduate training, Dr. Nazari has kept the latest dental techniques and technology in his skill set for the benefit of his patients.