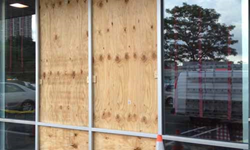 We are reminding Florida business to know in advance who they can call with a 30-minute response time for emergency 24/7 glass repair services in Boca Raton. The longer the wait, the more expensive it gets."
Boca Raton, FL (PRWEB) July 10, 2015
Express Glass and Board Up, one of Boca Raton's top 24/7 emergency glass repair services at http://www.expressglassfl.com/boca-raton-fl/, is proud to announce that it issuing a public alert to businesses about the importance of preparing for shattered windows and sliding doors in advance of a powerful hurricane. By posting this press release to its website and using Internet syndication, the company is spreading the word on the importance of pre-hurricane preparedness.
"Even when Boca Raton businesses have done their best to keep storefronts secure, a fierce hurricane can cause costly damage in minutes," commented Yaniet Santos, general manager of Express Glass, "We are reminding Florida business to know in advance who they can call with a 30-minute response time for emergency 24/7 glass repair services in Boca Raton. The longer the wait, the more expensive it gets."
The company has updated its web page on emergency 24/7 glass repair at http://www.expressglassfl.com/commercial-glass-repair/emergency-glass-repair-services/. There interested parties can learn more about glass repair services by the company, pertinent to hurricane season 2015.
With hurricane season up South Florida, the company also has phone operators standing by at (561) 470-6002 to help with pre-hurricane glass repair planning, and the company reiterates its commitment to working with apartment complexes, businesses, and condominiums to pre-measure glass windows in preparation for hurricane season.
Smart Business Owners Call a 24/7 Emergency Glass Repair Service Prior to an Intense Florida Hurricane.
Business owners encounter many challenges during Florida's destructive hurricane season. Broken glass from wind damage in the middle of the night is an emergency that cannot wait. Business are vulnerable to theft and water damage. Owners must protect their commercial property 24/7 and need a glass repair business that answers the phone all hours of the day.
Express Glass & Board Up reminds Boca Raton businesses that not all glass repair services offer 30 minute 24/7 emergency glass repair. From the moment a glass window is shattered, the clock is ticking. Response time must be short, quick and reasonably priced. When a commercial business owner calls Express Glass in advance for a free consultation, the proper materials will arrive when the technician does. While other businesses are waiting in the middle of the night for a glass replacement technician, help has already arrived for savvy commercial business owners within 30 minutes and restored security and safety to the property.
About Express Glass and Board Up
Express Glass and Board Up Service Inc. is a family owned and operated glass repair business with more than 20 years of experience. Their professional technicians and the large variety of inventory make Express Glass the top glass repair service. If customers are looking for Miami glass repair, Boca Raton, Ft. Lauderdale glass repair as well as glass repair in Delray Beach or West Palm Beach glass repair, please reach out to the company for a free estimate. If customers need a 24/7 Sliding Glass Door repair service in Ft. Lauderdale, Boca Raton or Miramar, technicians are standing by. The company specializes in sliding glass door repair and window glass repair; technicians will handle any glass replacement situation efficiently. Home or business glass repair is the company's main priority.
Express Glass Repair and Board up
http://www.expressglassfl.com/