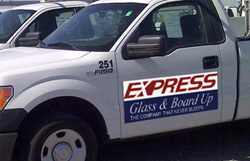 We remain one of Jupiter's few glass repair companies that are truly 24/7 emergency services.
Jupiter, Florida (PRWEB) August 19, 2014
Express Glass and Board Up, one of Jupiter's top glass repair services, is proud to announce an enhanced focus on emergency 24/7 glass repair services, for both residential and commercial customers. Jupiter and Palm Beach county small businesses often face glass breakages due to vandalism, theft, accidents or even the Florida weather. Unfortunately, many glass repair companies are not available on a 24/7 emergency service basis.
"We remain one of Jupiter's few glass repair companies that are truly 24/7 emergency services," explained Yani Santos, general manager of Express Glass. "Yet many Palm Beach county businesses do not distinguish between a company that offers 24/7 emergency repair services for commercial establishments like restaurants or doctor's offices as well as residential customers and those that are just a single contractor with a truck."
Consequently, the company is announcing plans to increase awareness of emergency 24/7 glass repair services in Jupiter, Florida, and all of Palm Beach county.
To learn more about Express Glass and Board Up's Jupiter, Florida, glass repair services, please visit http://www.expressglassfl.com/express-glass-board-jupiter/. There one will find information not only about Jupiter glass repair services but also about Express Glass & Board Up generally.
Publicity Efforts to Promote Emergency Glass Repair
To promote awareness of its services, the company is engaging in the following promotional tactics. First, the company is issuing a series of press releases to syndicate awareness across blogs, news sites, and other social media venues. Second, the company will be issuing a series of informative blog posts on topics such as emergency glass repair, special situations in Jupiter, Florida, and even anecdotes drawn from real experiences. Finally, the company is incentivizing the use of its service through coupon offers and special word-of-mouth incentives. The goal is that wherever someone lives in Palm Beach county or Jupiter, Florida, for that person to be aware of 24/7 emergency glass repair service and how to distinguish between professional and amateur glass companies.
About Express Glass and Board Up
Express Glass and Board Up Service Inc. is a family owned and operated glass repair business with more than 20 years of experience. Their professional technicians and the large variety of inventory make Express Glass the top glass repair service. If customers are looking for Miami glass repair or Ft. Lauderdale glass repair as well as glass repair in Delray Beach or West Palm Beach glass repair, please reach out to the company for a free estimate. If customers need a 24/7 Sliding Glass Door repair service in Ft. Lauderdale or Boca Raton or Miramar, technicians are standing by. The company specializes in sliding glass door repair and window glass repair; technicians will handle any glass replacement situation efficiently. Home or business glass repair is the company's main priority.
Express Glass Repair and Board up - http://www.expressglassfl.com/