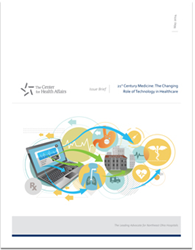 Cleveland, Ohio (PRWEB) May 19, 2014
The Center's May 2014 Issue Brief takes a look at how emerging technologies in healthcare are changing the practice of medicine in the United States. While Health Information Technology (HIT) – the storage, retrieval, sharing, and use of healthcare data for decision making – has been around for decades, it wasn't until recently that widespread adoption became a national priority. Now, thanks to private and public investment, HIT utilization has skyrocketed and left the door open for additional technologies to make their way into the healthcare arena. This paper highlights the progress that has been made in the U.S. and takes a look at emerging technologies in healthcare to see what the future holds.
In addition to the advances the healthcare sector has made with HIT, cutting-edge technology has also impacted the way today's patients manage illness and disease and the type of information available to their care providers. Just years ago, for example, monitoring blood pressure or glucose levels required a bulky device; however, thanks to new medical innovations, today's patients have access to a number of convenient technologies which allow them to take health into their own hands.
Additionally, personal health data is being used by physicians and researchers to better understand the human genome. Examining DNA allows doctors to compare their patients' genetic configurations to the configurations of other patients across the country, or even the world. This information can help identify common diseases, guide treatment options, or even flag strands of DNA that are predisposed to developing chronic conditions down the road.
To learn more about this Issue Brief and how emerging technologies in healthcare are changing the way care is delivered in the U.S., please contact Tony Gutowski, public policy development manager via email or at 216.255.3610.
To browse related information and resources cited in this publication, visit The Center's Technology in Healthcare Pinterest board.
A full list of The Center's publications can be found on our website along with a wide range of resources covering a variety of health policy issues.
###
As the leading advocate for Northeast Ohio hospitals, The Center for Health Affairs provides members with vital services and resources aimed at enhancing the region's healthcare community. The Center delivers on this goal by focusing its efforts on areas that benefit from a regional approach: Healthcare Workforce; Emergency Preparedness; Public Policy & Advocacy; Finance & Reimbursement; and Community Initiatives. With a rich history as the Northeast Ohio hospital association, dating back to 1916, The Center serves as the collective voice of hospitals and the source for Northeast Ohio hospital and healthcare information. As leaders, we continuously scan the periphery, looking for opportunities to enhance the region's workforce, better prepare our hospitals for an emergency, and increase the region's wage index. And because of our business affiliation with CHAMPS Healthcare, we have the resources to provide a broad level of professional services to our members. The Center, located in downtown Cleveland, is proud to advocate on behalf of 38 acute-care hospitals and two long-term acute-care hospitals in six counties. For more, visit chanet.org.