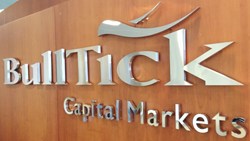 Our Research team has been all over the map over two weeks' time, tackling these tough questions of where we are in the markets and economy, what we can glean from historical repeats and where we may be heading. – Adolfo del Cueto, CEO
Miami, Florida (PRWEB) August 01, 2013
As Emerging Market assets, particularly Brazilian, buckle under the weight of fears of a "sudden stop" of fund flows precipitated by a more hawkish Federal Reserve, Bulltick Capital Markets' Research team has been on the scene to answer media, client, and the general public's questions.
"With on-sight client visits and public speeches in both Panama and Colombia, and television broadcasts from Miami, our Research team has been all over the map over two weeks' time, tackling these tough questions of where we are in the markets and economy, what we can glean from historical repeats and where we may be heading." – Adolfo del Cueto, CEO.
On Friday, July 26th, Kathryn Rooney Vera, macroeconomic strategist and director at Bulltick, appeared on the internationally-broadcast television station, Bloomberg TV, to analyze the complicated Brazilian economic and market situation. The Brazilian Bovepsa has been one of the worst-performing equity asset classes in the world due to both internal and domestic factors, dropping a steep 38% from late 2010. While Kathryn sees little spark for a significant rebound in Brazilian assets in the near-term, she considers that the longer-term prospects are solid given the ongoing middle class expansion and potential from the pre-salt oil region. Kathryn believes the market will likely better reward those countries that are more market-friendly and pursing business-friendly policies, which Mexico currently is and Brazil is not.
Bulltick's head of Research and managing director of the firm, Alberto Bernal, traveled to Panama for a speaking engagement for one of the firm's clients, giving the international macroeconomic perspective of our Research Department. He touched on the current state and outlook for not only Latin America but for the United States, likely future Federal Reserve policy changes, and market reactions. On this multi-day trip, he personally met with seven of Bulltick's institutional clients, along with public officials and private economists. Alberto also provided his expert analysis of the week's economic and market events on CNN's 'Globoeconomia', a 30 minute on-air program for CNN en español, which was aired July 28th 2013.
Next week, Kathryn Rooney Vera will travel to Bogota, Colombia for a speaking engagement for the magazine Latin Trade at its CFO event for top Colombian CFOs. She will be sharing Bulltick's international macroeconomic vision, views on Latin American economies, and market strategy. Ms. Rooney Vera will meet with eight of Bulltick's top clients in Colombia including the country's major pension funds and financial institutions.
Bulltick's other recent appearances include commentary in Spanish on the renowned journalist and former CNN en español anchor, Alberto Padilla's, "Padilla en America" program, discussing the past months' massive protests in Brazil, what they mean for that country and economy and for future politics and market movement.
About Bulltick Capital Markets
Bulltick Capital Markets Holdings, LLC, through its subsidiaries, is a securities brokerage, asset management and investment banking firm that provides its clients with diversified financial products by leveraging its Latin American roots and international expertise. We offer insight, opportunities, and top execution services to financial institutions and qualified investors.
Headquartered in Miami, Florida with offices in Mexico City and Bogota, we are optimally positioned to serve the needs of Latin American and other clients seeking access to and expertise in US and global securities markets. We maintain our local roots, insight and networks within Latin America for the benefit of our clients. We offer our clients the personal service and flexibility of boutique firms along with the financial capabilities of larger institutions. We deliver services through five business lines: Sales and Trading, Full Service Brokerage, Wealth Management, Investment Banking, Research.