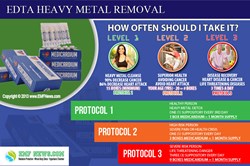 Hawaii (PRWEB) October 23, 2013
Paul Sean Fitzgerald, owner of EMF News, a resource dedicated to keeping individuals informed about relevant health issues and solutions, proudly unveils EMFNews.com. The new website was developed to share comprehensive information about health problems caused by exposure to Electromagnetic Radio Frequency radiation (EMF radiation) and nuclear radiation, and to provide detox solutions for these health problems.
The team behind EMFNews.com is led by Paul Fitzgerald, a home radiation specialist who is passionate about warning people regarding the dangers of EMF, Nuclear Radiation and Environmental toxins. These problems, according to Mr. Fitzgerald, can lead to serious health conditions that include chemical toxicity, calcification, kidney stones, prostate health, erectile dysfunction, and colon problems, among many others.
EMFNews.com is home to an extensive range of EMF radiation protection and whole body detox products. Their goal is to provide people with the tools they need to bring back the body to optimum health and protect themselves from effects of radiation and toxins.
"When it comes to your health, you want to get your information from reliable, trustworthy people that know what they're talking about," says Paul. "At EMFNews.com, we share top quality information garnered over our 15 years in the business so that you know the steps to take to become healthy and EMF/EHS and Nuclear radiation free," he emphasizes.
As part of its launch, EMFNews.com is offering a special discount. The "en5off" coupon entitles the first 100 customers to a 5% discount on all orders of detox cleanse products the online shop carries, including Glytamins (Liver, Gallbladder and Kidney), Endosterol (Prostate, Breast, Hair Loss and Female Health), Medicardium (EDTA Chelation and Heavy Metal Detox), Xeneplex (Glutathione and Organic Coffee), Ellagica (Broad-spectrum Anti-viral and Anti-bacterial) and Lymplex (Blood and Lymphatic System).
EMFNews.com offers customers priceless peace of mind with guaranteed safe, secure and confidential transactions. This Web site is secured with a EV-SSL Web Server Certificate. Transactions on the site are protected with up to 256-bit Secure Sockets Layer encryption.
To find out about the new website offering EMF information and detox products for healthy living, please visit http://emfnews.com/ and be one of the first customers to get 5% discount.