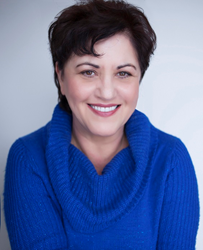 Yes, GeriJoy's service is love, and it's wonderful.
San Francisco, CA (PRWEB) April 30, 2014
Originally from Marblehead, MA, Emily graduated from NYU's Silver School of Social Work where she received a NIMH fellowship and MSW in Social Welfare Management focused on Community Development.
In 1999, as Founder and CEO of a pre-Friendster social networking company, Emily designed a unique Internet service that solved a 90 billion dollar retention problem for Fortune 1000 corporations who suffered a 42% rate of failed relocations due to unhappy spouses who could not assimilate into their new hometowns. She currently holds four issued patents in online social networking.
In 2009, Emily was personally impacted by the substandard and neglectful care her father received across the continuum of care, including a hospital, skilled nursing facility, and hospice organization. She thus returned to the field of social work to specialize in aging and eldercare with the goal of experiencing and uncovering critical, unmet needs in the industry in order to work on the solutions. After gaining several years of hands-on, front-line experience with older adults and family members, treating the psycho-social aspects of their lives, she is now focused on her goal of using technology to facilitate real-time problem solving communication and relationship building in the area of patient care transitions and aging in place.
Today, Emily joined the advisory board of GeriJoy, a company founded by MIT researchers to improve quality of life for seniors and caregivers through friendly technology. The GeriJoy Companion, their flagship service, is a virtual pet and companion for Alzheimer's and dementia care. It is available 24/7 and is supported by GeriJoy's worldwide team of remote care staff, who guide the pet's speech to provide elders with the experience of having an always-available companion that can talk with them about family photos, positive memories, etc. The service also reports back to caregivers, improving care management insight for providers and peace of mind for families living with dementia.
Emily said of the GeriJoy Companion, "One cannot help but reach out from the dark recesses of one's mind to connect with a kitty or puppy that tells you how beautiful you look. GeriJoy's sweet, compassionate companions evoke comforting memories from one's past. The warmth of a pet's unconditional love brings forth positive emotions and a desire to interact and connect in a way that nurtures and heals. Yes, GeriJoy's service is love, and it's wonderful."
About GeriJoy
GeriJoy has been recognized by organizations like AARP, TEDMED, and the US Senate as a leading innovator in senior care, and its affordable, 24/7 companionship and oversight service has documented benefits in care situations ranging from family caregiving to private-duty home care, assisted living, and skilled nursing dementia care. To learn more, visit http://gerijoy.com. To discuss how GeriJoy can help your organization, contact info(at)gerijoy(dot)com.