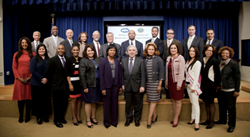 My efforts and duties from cultural organizations and the pageant, essentially lead to the same duties as a citizen of the world, and fit perfectly with the goals for the Minorities in the Energy Initiative
Washington D.C. (PRWEB) January 08, 2014
The United States Secretary of Energy, Dr. Ernest Moniz, announced the first Ambassadors of the Minorities in Energy Initiative at the White House Forum on November 13, 2013. Emily Duong, the 2013 Pacific Miss Asian American, shares the ambassadorship among twenty senior-level leaders across the nation, including the 2014 Miss America, Nina Divaluri. Both young pageant women are the image of America's diversity; Ms. Duong intends to be more than just an image; she is to serve an active role in energy development for the future.
This momentous event was led by White House Honorable LaDoris 'Dot' Harris, Director of the Office of Economic Impact and Diversity, U.S. Department of Energy, to address the needs of minority communities in the energy sector and align White House agenda for engaging more Americans on the topics of workforce development. "We have gathered great minds, great talents and even greater aspirations to address the importance of STEM (science, technology, engineering, and mathematics) education, workforce development, energy economic development and climate change for minority communes," says, Honorable Dot Harris. "The diversity of America is what makes this country great, and we must use that diversity to power our nation's future and engage more Americans in the energy sector."
Emily Duong, graduate of George Mason University's School of Social Science and Humanities, with degrees in Communications and Business Administration and continual studies in Pre-Medicine, is an obvious choice to represent this White House initiative. Recently crowned the 2013 Pacific Miss Asian American, she is entering the international platform for the Miss Asia World Pageant representing the United States. She is extremely engaged in the national Asian American community for students and an active community organizer as the External Vice President for the Mid-Atlantic Union of Vietnamese Students Association (MAUVSA) and regional representative for the Union of North American Vietnamese Students Association (UNAVSA). She possesses top-level leadership positions run by students and alumnus to promote academia, cultural awareness, empowerment, and philanthropy for humanity through scholarships and cultural exchange.
"My efforts and duties from cultural organizations and the pageant essentially lead to the same duties as a citizen of the world, and fit perfectly with the goals for the Minorities in the Energy Initiative," says Ms. Duong. "There is an exponential growth to STEM Education and economic development by supporting diversity, especially for women and minorities".
As an Ambassador, Ms. Duong will be expected to lend her voice to the mission in the Energy Initiative through outreach and strategic planning. Furthermore, she will be creating an awareness of greater job opportunities for minority students in the fields of STEM education, energy economic development, and climate change as she speaks at universities and conferences across the country and other events that link the DOE's resources to diverse audiences.
For more information about the Minorities In Energy Initiative go to: http://energy.gov/diversity/services/minorities-energy-initiative.
To follow Emily Duong go to: http://www.facebook.com/missasianamerican, http://www.twitter.com/eduong, missasianamerican.tumblr.com, and instagram.com/asiandorkable.