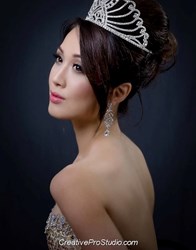 There is a powerful balance within self-confidence, grace, and ambitions.
Washington D.C. (PRWEB) December 05, 2013
Emily Duong was crowned this year's 2013 Pacific Miss Asian American. The final competition hosted by Pacific Culture International (PCI) was held at the Music Center at Strathmore, where fifteen beautiful Asian-American final contestants participated in a group dance, as well as competitions in individual fields of talent, evening gown and swimwear.
The Pacific Miss Asian American Beauty Pageant is celebrating its third pageant in the DC Metropolitan area and is considered the East Coast's largest and fairest Asian beauty pageant. The event provides the platform where outstanding, young Asian American women have the rare opportunity to display their artistic skills, intelligence, confidence, cultural pride, and leadership in order to further advance themselves in American society. The contestants are descended from Chinese, Philippine, Vietnamese, and Korean immigrants.
Emily Duong is a graduate of George Mason University's School of Social Science and Humanities, with degrees in Communications and Business Administration and continual studies in Pre-Medicine. She is highly involved in the national Asian-American community holding executive and leadership position run by students and alumnus to promote academia, cultural awareness, empowerment, and philanthropy for humanity through scholarships and cultural exchange.
In addition to being crowned 2013 Pacific Miss Asian American, Emily also received an award for best talent at the pageant. "My years of training with figure skating and martial arts inspired me to combine the grace and power of my two passions for a self-choreographed performance to the motion picture soundtrack of Memoirs of a Geisha," said Emily. Emily has been figure skating for over 11 years with the Washington Figure Skating Club (WFSC) under the United States Figure Skating Association (USFSA) and spent two summers coaching for the Special Olympics.
Emily Duong's acceptance of the highly prized crown is just the beginning of a journey that will take her to events and invitations to help foster community development, cultural exchange, business and economic opportunity, as well as further her personal and professional goals and instill a spirit of community service through a variety of nationwide community-based programs. "There is a powerful balance within self-confidence, grace, and ambitions," says Emily. "With all things in balance, we can open up communication between the younger and older generation, and different cultures for better understanding and gratitude that will stem into further cultural exchange and economical development." Her journey will also be taking her to Seoul, Korea in October of 2014 to represent the United States of America in the only Asian American pageant to lead to an international platform for the 2014 Miss Asia World pageant.
To follow Emily go to: http://www.facebook.com/missasianamerican, http://www.twitter.com/eduong, missasianamerican.tumblr.com, and instagram.com/asiandorkable.