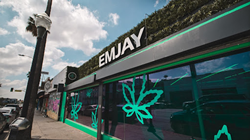 LOS ANGELES (PRWEB) November 08, 2022
Emjay, a leading cannabis delivery service, recently announced the launch of their first cannabis dispensary in Los Angeles on Fairfax Avenue. This will be the company's second dispensary, the first having opened in La Mesa, CA in April 2021.
The space on Fairfax, which was previously a Sherbinskis dispensary, was transformed into an Emjay storefront in just 72 hours. In the redesign, Emjay also partnered with local florist and event stylist, Natalie Blooms to create a warm, welcoming, and inviting space. Not only that, but Emjay's Los Angeles dispensary is also meant to reflect the transformative power of cannabis itself.
"Fairfax Ave is one of the most iconic streets in Los Angeles," said Emjay CEO Chris Vaughn. "We're incredibly excited for Emjay's new dispensary to be part of such a historic neighborhood and serve the local community."
The Emjay dispensary looks to differentiate itself in the dispensary market space in a variety of ways. One of the most exciting, though, is their plan to integrate local businesses around the area like Canter's Deli and become part of the Los Angeles community at large.
Emjay takes their next step in the physical dispensary market with a splash as they once again look to reimagine and revolutionize the cannabis shopping experience.
###
About Emjay - Launched in early 2019, Emjay is the leading California-based cannabis delivery and retail platform dedicated to creating the best cannabis shopping experience for consumers. Emjay's primary focus is on building consumer trust. It does this through white glove customer service, curating a wide-ranging menu of premium cannabis products, and being highly selective in its courier onboarding and training. As one of the only vertically integrated retail and delivery platforms, Emjay owns and operates all its own infrastructure, allowing them to offer incredible pricing and better service to its customers.
You can shop at heyemjay.com.