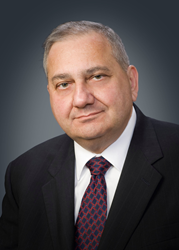 Bridgeport, W.Va. (PRWEB) May 06, 2015
The Energy & Mineral Law Foundation (EMLF) has established a Legacy Fund which can be used to honor Russell L. Schetroma, an attorney with Steptoe & Johnson PLLC who passed away in March of this year. The fund allows donors the opportunity to recognize Schetroma's contributions to the organization and to the field of energy law. Contributions to the Legacy Fund will provide scholarships for law students, stipends for student research and writing, as well as funding for research, presentations and writing by professors.
For more than 30 years, Schetroma, known by his friends and colleagues as the "Dean of Pennsylvania Energy Law," was a sought after speaker and author on energy issues. He was a nationally recognized figure in the field of energy law and a driving force behind Steptoe & Johnson's expansion in Pennsylvania, Texas and Colorado. He was also managing member of the firm's Meadville, Pa., and Woodlands, Texas offices. Schetroma believed passionately in the EMLF and its commitment to legal scholarship. He frequently authored articles and held attendees spell-bound when he spoke for the organization's annual institutes.
Gifts can be made to the EMLF Legacy Fund at 340 South Broadway, Suite 101, Lexington, KY, 40508, with the notation that the gift honors Russell Schetroma. All of the contributions will be invested in the fund.
About Steptoe & Johnson
Steptoe & Johnson PLLC is a U.S. law firm with more than 325 attorneys and core strengths in energy, business, employment, and litigation. Steptoe & Johnson operates 15 offices in six states including Colorado, Kentucky, Ohio, Pennsylvania, Texas, and West Virginia. Visit http://www.steptoe-johnson.com and connect with us on Twitter and LinkedIn.
For more information, contact Betsy Spellman, Chief Marketing Officer, at (304) 933-8000 or by email: press(at)steptoe-johnson(dot)com.
###