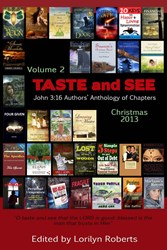 Instead of needing internet access at all times to sample chapters on Amazon, readers download the free Taste and See, Volume 2, book onto their Kindle or Kindle compatible device and browse at their leisure.
San Jose, USA (PRWEB) December 24, 2013
This Christmas, readers will get the chance to try for free the first chapters in this compilation of books. As book publishing and marketing becomes more of a challenge for both traditionally published as well as self-published authors, entrepreneurs in the book business look for innovative ways to harness the power of group strength to market their tomes.
Traditional publishers have always had the mass and variety of numbers--more authors, more books, more genres, more dollars for marketing and publicity--ingredients which the self-publishers have lacked--at least until now.
With John 316 marketing network, authors can take advantage of the density that traditional publishers have always enjoyed. Emma Right, author of young adult fantasy, Keeper of Reign, Book 1 and, psychological thriller, Dead Dreams, believes in the power of several writers uniting together to market each other's books. The list of writers in the anthology hail authors from the USA, Canada and from as far as South Africa and even Australia. Some of the books are targeted at young adult readers, and most have a "G" or "PG" reading rating, suitable for pastors, bible teachers, as well as homeschooling parents and grandparents looking for that perfect book. For a complete list of the authors, their book titles and the chapters, download at zero cost, the book on Amazon
"As book marketing becomes more competitive," Emma Right stated, "with the vast number of available free and 99 cent books writers need to come together in a combined launch effort and use the power of cooperation." Every few months, members of the John 316 network launch a set of books which have already gathered at least 10 Amazon reviews with a 4 plus rating.
"It's a win-win situation," Ms. Right, who recently launched her debut juvenile fantasy, "Keeper of Reign" with the John 316 group. "Keeper of Reign" hit the number one spot for three different categories on Amazon paid Kindle during the launch, which testified to the power of such a joint effort. "With the Taste and See book, readers get to read chapters for free and see if a book is suited to their palate." Instead of needing internet access at all times to sample chapters on Amazon, readers can download the Taste and See, Volume 2, book onto their Kindle or Kindle compatible device and browse at their leisure.
The founder of the John316 marketing group stated, "We help all authors, indie and traditionally published, to reach their target audience. We are like a church of Christian authors, sharing our writing talent and marketing passion with readers around the world."
The books vary from children's picture books, Christian Inspirational to Suspense Thrillers and Fantasy. And there is even a non-fiction section for Christian living. All the books take the moral high road and promise exciting reading for each type of reader.
To read more about the concept of "Taste and See" and the inspiration behind the phrase, visit Ms. Right's Blog for Christians.
Profile: About the author, Emma Right: Emma Right is a happy wife, author of young adult and young teen books, and a Christian homeschool mother of five living in the Pacific West Coast of the USA. Besides running a busy home, and looking after her five pets, she writes, blogs, and is active in her homeschool community. Right worked as a copywriter for two major advertising agencies and won several awards, including the prestigious Clio for her ads.
Emma Right's 'Keeper of Reign' and 'Dead Dreams' are both available at Amazon and paperback wholesale interests may go to New Shelves Distribution, NY, USA, c/o Amy Collins.
Contact Information: Emma Right http://www.emmaright.com emmarightt(at)gmail(dot)com San Francisco, California, USA 650-4861231.