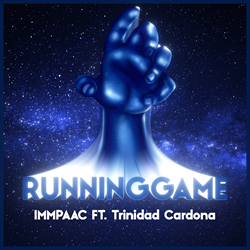 The next step for me was to release music... My goal as "IMMPAAC" is to make people feel something again and bring back the energy of music of the music that we love.
LOS ANGELES (PRWEB) November 13, 2020
Emmy Award-winning producer Nate 'IMMPAAC' Jolley [Fifth Harmony, Austin Mahone, Mya, King Los] releases his first single as an artist with "Running Game" featuring viral sensation and R&B singer Trinidad Cardona [Jennifer] through Lion Pack Music Group (LPMG).
Super producer Nate Jolley releases R&B record "Running Game" through his global high-end multimedia entertainment company LMPG under the new artist moniker "IMMPAAC". His collaboration with recording artist Trinidad Cardona, known for his 2017 hit record "Jennifer," marks his first single debut that is notably mixed by world-renowned engineer Dexter Simmons [Brandy, Michael Jackson, Whitney Houston]. IMMPAAC previously created music with his twin brother, Noble Jolley Jr., to award-winning success. The duo recently won an Emmy Award performing as "The Jolley Brothers" on the original jazz-influenced score of the film, "The Rehearsal," created by Award-winning composers Dalal Bruchmann & Jeff Franzel.
Trinidad Cardona is an Afro-Mexican American recording artist and social media personality. He gained fame after his song "Jennifer" went from freestyle to a viral sensation. After raking several million views on YouTube, Cardona inked a deal with Island Records, a Universal Music Group division. The Arizona native has since put out several other singles, including "Dinero," and has plans to grow into a house-hold name. Cardona has become incredibly popular on various social media platforms with a combined fan base of over 978 thousand subscribers across Twitter, Instagram, Facebook, and YouTube.
Coined leader of the new school, IMMPAAC is best known as a producer & multi-instrumentalist acknowledged virtuoso in the music industry. His first tour was at the young age of 13 at the Havana Jazz Festival in Cuba, opening up for Jazz Legend Herbie Hancock. IMMPAAC graduated from Peabody Conservatory with his degree in Jazz Studies and was nominated for Album of The Year at the 2018 "Stellar Awards" for his work on Kenny Lattimore's Christmas Album, which was Top 10 on the Billboard Charts.
"Working in the music industry with an array of different! The next step for me was to release music that I was could share with the world. My goal as "IMMPAAC" is to make people feel something again, and bring back the energy of music of the music that we love."
The momentum at LPMG has been one of action and accomplishment. Working with distinguished clients like Chante Moore, The Jolley Brothers produced the track "We Up" for her "Rise of The Phoenix" album that debuted #7 on the R&B Charts. Austin Mahone's "Perfect Beauty" earned a spot in the Top 10 records in Japan. Nate also produced "Must Be Crazy" from Elijah Blake's album "Audiology," an album that debuted in the top 10.
Additionally, on the music front, IMMPAAC went on to executive produce the Emmy award-winning Show, BET Rap It Up Tour Mixtape. He made several songs on Kenny Lattimore's album "A Kenny Lattimore's Christmas" was nominated for "Special Event Album of the Year" at the Stellar Awards. Noble Jolley produced a song for Kiana Lede, "One of Them Days." Nate had two songs for Rayven Justice's "Wavy Justice 2" Album – "IDFWU" featuring Too Short and "Show You How" featuring AD.
Nate "IMMPAAC" Jolley understands what artists need to reach their potential. With the experience of writing & performing, he is sure to make an impact and stand out from the rest of the pack. "Running Games" is available now on all platforms, with a video coming soon.
WHAT: IMMPAAC FT. Trinidad Cardona "Running Game."
WHERE: Stream & Download "Running Games" on All Platforms.
WHEN: Friday, November 13, 2020
Connect with Trinidad Cardona
Instagram: @trinidad
Tik Tok: @trinidad.cardona
Connect with Nate "IMMPAAC" Jolley
Instagram: @immpaac
Website: Lionpackmusic.com
For interview and speaking requests, contact Rosa Veleno of MegaEntivision at rosa@megaentivision.com (310) 910-1864.