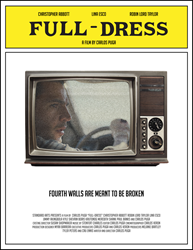 In 'Full-Dress,' audiences will experience a non-linear story that ends up speaking about moviemaking itself.
LOS ANGELES (PRWEB) June 20, 2019
Emmy-winning director Carlos Puga presents "Full-Dress," an experimental feature film that keeps its audience guessing at every turn. What begins as a traditional narrative structure quickly blooms into a mind-bending adventure whose repeated fourth-wall breaks set up a wholly original cinematic reveal. The film stars Christopher Abbott ("Catch-22," "First Man," "Whiskey Tango Foxtrot," HBO's "Girls," "The Sinner"); Robin Lord Taylor (plays The Penguin in "Gotham," "The Walking Dead," "Law & Order: SVU," "The Good Wife"), Lina Esco ("S.W.A.T.," "Kingdom," "Flaked," "Free the Nipple"), Jimmy Akingbola ("Spectral," "Arrow," "Holby City"), Boris Lee Krutonog ("Star Trek VI: The Undiscovered Country," "The Hunt for Red October," "Thirteen Days"), among others, and is an Official Selection at Dances With Films, screening on Friday, June 21, 2019, at 9:00 p.m., at the TCL Chinese 6 Theatres, located at 6801 Hollywood Boulevard, Hollywood, California.
Director Carlos Puga says, "In 'Full-Dress,' audiences will experience a non-linear story that ends up speaking about moviemaking itself. We break the 3-act structure and also break the fourth wall throughout the film, mostly because I enjoy movies that do those things. Typically, when you sit to watch a movie, you know what you're going to get, in terms of structure at least; you know you'll follow characters through adversity and so on and so on, but I thought: what if right when you start to care about a character as an audience member, what if right then, that character became someone completely different, that you had to meet for the first time. What if the story itself completely changed. How would an audience react, and is there perhaps some value in finding out?"
He adds, "I wanted to develop an unexpected experience for the audience, something different, because to me, different is fun; and to do it, I drew inspiration from filmmakers like Luis Buñuel and Charlie Kaufman, as well as writers like Borges."
The plotline begins with two friends who get into serious trouble after borrowing money from the mob in order to make a movie, but then shifts entirely to become the story of a successful film and TV actor, Christopher, (played by Christopher Abbott), who finds himself relegated to community theater as part of a DUI plea deal. And just as the audience learns that the previous plot of "friends making a movie" was simply the story within the play that Christopher is rehearsing, another, even larger surprise awaits.
Worldwide Rights for "Full-Dress" are available.
For tickets to the World Premiere, please visit: https://danceswithfilms.com/full-dress
For the Facebook Event page, go to: https://www.facebook.com/events/1072963482906969/
About Carlos Puga
Award-winning filmmaker, Carlos Puga, was born in Santiago, Chile and raised in Miami, FL. He graduated from New York University with a Bachelor of Science in Economics. In 2003, he founded his production company, Standard Arts (standardarts.com), and through it, began producing/directing episodes of MTV's acclaimed documentary series "True Life"—work which he continues to this day and for which in 2009 he received a Daytime Emmy Award. In 2011, his short film, "Satan Since 2003," premiered at The Sundance Film Festival where it was nominated for the Short Filmmaking Award. It also screened and received nominations at SXSW, Milan and AFI, among others. His first feature, "All That I Am," premiered at SXSW 2013 where it won the Special Jury Prize. The film also screened at The Rio Film Festival, The Sarasota Film Festival, The Little Rock Film Festival and the 2013 New Hampshire Film Festival, where it won the Grand Jury Award.