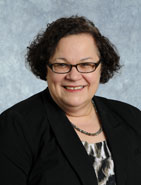 Cleveland, Ohio (PRWEB) May 23, 2014
In CHAMPS Patient Experience's most recent blog post, Takeaways from the Empathy + Innovation Summit, Carol Santalucia shares her thoughts on the topic.
Since Sunday, Carol has been at the Cleveland Clinic's 5th Annual Patient Experience: Empathy + Innovation Summit. She thinks it is so wonderful to have people from around the world, who are committed to making a difference in healthcare, gather in her hometown for this event every year.
At this year's Empathy + Innovation Summit, Santalucia attended several sessions on communication and technology. She was very interested to hear about the creative ways technology is being used to improve the patient experience. It reminded her that we really need to think differently and creatively. At one session, she learned that Google recorded 30 billion health searches last year. This tells us people are relying on technology as a vital source of health-related information and we need to be:

Providing better education for patients via technology
Developing online outlets for patients to give us real feedback
Giving patients better access to their medical records electronically
Allowing virtual access to care providers
This year's Empathy + Innovation Summit reminded Santalucia that technology can help us provide support and community resources to the patient along their entire journey. She encourages us all to think outside the box, utilizing technology (in conjunction with the empathy and communication skills we already practice) to really enhance the patient experience.
Santalucia closes her blog by asking readers how they use technology to improve the patient experience.
To learn more about the CHAMPS Patient Experience blog, PX Perspective, visit http://www.pxperspective.com.
###
In partnership with Santalucia Group, CHAMPS Patient Experience offers a variety of services to enhance the patient experience. Led by Carol Santalucia, a recognized leader in patient experience with more than 30 years of expertise, CHAMPS offers outcomes-based services designed to create an optimal patient experience. We believe providing an optimal patient experience not only makes sense intuitively but also leads to improved healthcare outcomes, increased patient loyalty and an enhanced financial position for our clients. To learn more about us and our services, visit http://www.champspatientexperience.com.