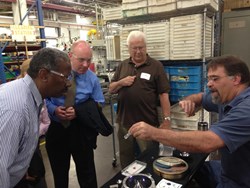 "Empire is honored to have been recognized as one of the area's fastest growing companies, and it was a great chance to show the new capabilities we can offer our customers."
Rochester, N.Y. (PRWEB) August 13, 2013
Rochester Business Alliance (RBA) members had the chance to see how plastic medical device parts and optics are manufactured during a tour of Empire Precision Plastics on July 24. Empire hosted the tour as part of RBA's Meet the Top 100 series, highlighting Rochester's Top 100 fastest-growing privately owned companies.
About 30 area business leaders received an up-close look at Empire's medical injection molding and optical molding capabilities. Diamond Turning Technician John Humnicky presented some recent single-point-diamond-turned prototypes, while his fellow engineers took guests through Empire's tooling, metrology center, and new fully-automated clean room for contract assemblies.
"The tour was a huge success," said Empire President Neal Elli. "Empire is honored to have been recognized as one of the area's fastest growing companies, and it was a great chance to show the new capabilities we can offer our customers." Video of the tour is available on YouTube, and photos are posted on Empire's Facebook page.
Empire Precision recently acquired its polymer optics division, adding molding, single point diamond turning and thin film coating capabilities, making Empire one of the only plastic injection molders that manufacture plastic optics in-house. The company also recently added a white room for secondary and assembly services including custom packaging and complete or partial component assembly.
Those who were not able to attend the tour but would like to visit Empire or learn more about its precision injection molding services can email info(at)empireprecision(dot)com or call 1-800-541-7135.
ABOUT EMPIRE PRECISION PLASTICS
Empire Precision (http://www.empireprecision.com) has a 20-year legacy of partnership with its customers in solving their most challenging injection molding problems. Empire provides medical device, consumer, industrial and military/aerospace customers with plastic molded parts and assemblies, from prototype to high volume manufacturing and assembly. Their comprehensive in-house capabilities allow for faster time-to-market and better finished quality, improving profit margins for their customers. Empire Precision Plastics is ISO 9001:2008 and 13485:2003 Certified.