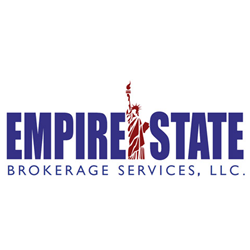 PLAINVIEW, NY (PRWEB) July 15, 2016
Empire State Brokerage Services, LLC is pleased to announce that it has received an appointment from CNA Insurance Companies to represent their small business accounts.
The program is designed for small business risks that are involved in the following industries:

Healthcare
Financial Institutions
Professional Services
Retail
Technology
Wholesale Distribution
Light Manufacturing
Through the appointment, CNA Insurance Companies, allows Empire State Brokerage Services, LLC to underwrite the following lines of insurance through their portal:
Business Owner's Policies ( BOP's)
Commercial Automobile
Workers Compensation
Umbrella or Excess Casualty
CNA Connect is CNA Insurance Companies' proprietary Business Owner's Policy which provides the insured with superior protection in an unpredictable business environment. CNA Insurance Companiess comprehensive Property and Liability coverage can include Building, Business Personal Property, Business Income and Extra Expense, Computer Equipment, Valuable Papers, Accounts Receivable, Money and Securities, Back-up of Sewers and Drains, and much more.
All insurance policies are written by an admitted insurance company of the CNA Insurance Companies.
Empire State Brokerage Services, LLC welcomes the opportunity to begin receiving submissions from producers. The brokerage will be able to quote online and provide the quick service its clients require.
Retail agents interested in these packages can call Empire State Brokerage Services, LLC at (516) 396-4600.
About CNA
Serving businesses and professionals since 1897, CNA is the country's eighth largest commercial insurance writer and the 14th largest property and casualty company. CNA's insurance products include standard commercial lines, specialty lines, surety, marine and other property and casualty coverages. CNA's services include risk management, information services, underwriting, risk control and claims administration. For more information, please visit CNA at http://www.cna.com. "CNA" is a service mark registered by CNA Financial Corporation with the United States Patent and Trademark Office. Certain CNA Financial Corporation subsidiaries use the "CNA" service mark in connection with insurance underwriting and claims activities.
About Empire State Brokerage Services, LLC
Empire State Brokerage Services, LLC is an independent brokerage firm, offering competitive rates on policy packages to assist retail insurance agencies with insurance placements. We've served agents nationwide since 2009, and we continue to assist our clients with the attention to detail and understanding they deserve. For more information, visit us online at http://www.empirebrokerage.com.