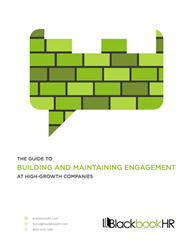 "High-growth companies need a sound employee engagement strategy, clear-cut values, measurement tactics, involvement at all levels of the organization and frequent communication — and their engagement tactics must be ongoing." - Chris Powell, CEO
Cincinnati, Ohio (PRWEB) January 27, 2015
BlackbookHR, a human resources technology company helping organizations create engaged and connected workplaces, this week published "The Guide to Building and Maintaining Engagement at High-Growth Companies." The free guide is a quick read that explains the steps that leaders at high-growth companies must take to build and maintain employee engagement.
The guide also contains advice from leaders at high-growth companies that have created and executed effective employee engagement strategies. Inside, readers will find insights from HireVue Vice President of Human Resources Ben Martinez, Paycor Executive Vice President Stacey Browning, AvidXchange CEO Michael Praeger and APCO Vice President of Human Resources Donna Bates.
"Employee engagement efforts have to be an integral element of every high-growth company's overall business strategy," BlackbookHR founder Chris Ostoich says. "It's difficult — if not impossible — to grow when your customers aren't happy and you're struggling to replace employees who've left for better opportunities."
Research has shown several ways employee engagement affects companies' bottom lines:

Organizations with a high ratio of engaged employees to actively disengaged employees in 2010-2011 experienced 147 percent higher earnings per share compared with their competition in 2011-2012 according to Gallup's 2013 State of the American Workplace report. These companies also have 10 percent better customer ratings, 22 percent better profitability and 21 percent better productivity.
Forty to 80 percent of customer satisfaction is affected by employee attitudes, according to the National Business Research Institute.
Highly engaged employees are 87 percent less likely to leave their employers, the Corporate Leadership Board has found.
"To build and maintain employee engagement, you can't just survey employees once a year," BlackbookHR CEO Chris Powell says. "High-growth companies need a sound employee engagement strategy, clear-cut values, measurement tactics, involvement at all levels of the organization and frequent communication — and their engagement tactics must be ongoing. Our new guide explains how to do this."
ABOUT BLACKBOOKHR
BlackbookHR is a software company on a mission to create more engaged and connected workplaces and communities. BlackbookHR delivers award-winning SaaS employee engagement solutions for organizations with 100 or more people. Happy clients include GE, Ernst & Young, Macy's, and Procter and Gamble.