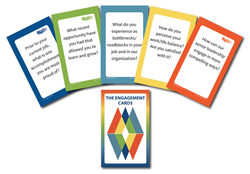 Using The Engagement Cards helped the conversations to be more relaxed.
San Ramon, California (PRWEB) September 14, 2017
The Piras Group has developed a new tool to increase employee engagement that's already producing results. The Engagement Cards quickly and easily help begin employee-manager conversations by creating a more relaxed game-like context. The cards are currently being successfully used in a variety of large organizations: as an icebreaker in 1:1 meetings; to help team members get to know each other; in staff meetings to help employees have fun in conversations; and for speed dating between two organizational functions brought together to meet each other.
"Employee engagement statistics are abysmal. In 2016, Gallup reported that 36% of employees were engaged. We also know the #1 reason people leave a job is his/her direct relationship with the boss. With such stakes on the line, the question is: 'How do we truly drive greater engagement with employees?' asks Carol Piras, Managing Partner for The Piras Group. "So, we set out to create a tool that would start to turn that around by creating a more relaxed, fun situation to naturally foster employee engagement."
"Very useful—a lot of the questions really address issues and concerns employees have, but may be nervous to ask," responded a Beta Participant, large tech corporation in Silicon Valley.
"We really like the range of questions, not just the standard ones. They were less structured and more personable and made us laugh. Using The Engagement Cards helped the conversations be more relaxed," responded a Beta Participant, large research facility in Silicon Valley.
The Engagement Cards deck has 5 "suites" – each with a specific set of questions for discussion. Suites included concepts such as "Getting to Know You", "Successes and Wins", "Job Satisfaction and Improvement", "Learning and Development" and "Direction and Alignment". Each suite presents neutral questions that either manager or employee can answer, and should. In all they include: 5 suites, 52 cards, with neutral questions that can be used in a variety of settings. Some of these questions bring deeper conversations to the table in a non-confrontational way. Others help managers and employees to share information that otherwise feels too serious or awkward unless there's already a solid relationship.
Founded in 2000, The Piras Group is a team of committed, passionate leaders in service to leaders who help create healthy communities of work and make a positive difference in the world, not only today but for future generations. The Piras Group's leadership experts provide coaching and organization consulting services including tools and skills for leaders, management, and teams to soar with inspiration, high level productivity, and life-long results. For more information, visit http://www.ThePirasGroup.com.