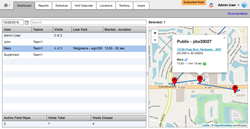 Miami, FL (PRWEB) October 18, 2017
The extensive use of mobile devices brought GPS technology to the mainstream. Smartphones and tablets allow anyone with a mobile device to take advantage of the Global Positioning System and quickly find addresses, businesses, routes, and people.
Sensing the market need for an affordable employee GPS tracking app that also included simple data collection, VisitBasis, the software company from Hallandale Beach, Florida, has expanded its product offering with VisitEye.
VisitEye is an employee GPS tracking app designed specifically for businesses that rely on professionals such as outside sales reps, prospecting and delivery agents, service staff, etc. It allows managers and supervisors to monitor the coordinates of their field team members while also capturing relevant workday activity information like mileage, notes, and even photos.
"We already catered to the retail CPG merchandising market – that needs extensive custom data collection – with VisitBasis", says Sergey Gorbunov, CEO of VisitBasis. "The idea with VisitEye is to bring a simplified version of our most advanced product to businesses that could greatly benefit from an employee GPS tracking app with just enough extra information on visits", completes.
Those interested in more information on VisitEye should access http://www.visiteye.com, where they can also sign up for a free trial. The VisitEye employee GPS tracking app is fully cross-platform and be downloaded for free from Apple Store and Google Play.
About VisitBasis Tech, Llc.
VisitBasis Tech is a B2B software-as-a-service (SaaS) company specialized in the development of cost-effective, cutting-edge, and comprehensive mobile solutions that aim to increase sales and reduce costs, improving the bottom-line of businesses that rely on field professionals. The key benefit of VisitBasis app is to optimize retail execution, merchandising, field marketing, mobile data collection, retail audits, territory management, sales rep planning, tracking sales, mobile staff management, electronic product catalog, sales enablement, among others, especially in the consumer product goods (CPG) and fast-moving consumer goods (FMCG) industries. Besides VisitEye, VisitBasis Tech products include VisitBasis and Pocady.