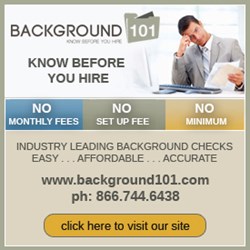 Our team works closely with all of our clients to make sure that employee screening is executed efficiently, while it conforms to their expectations at an affordable price
Boston, Massachusetts (PRWEB) September 12, 2013
Background101, one of the nation's leading pre-employment and existing employee screening services, features FCRA compliant professionals and secure data.
Background101 performs rigorous and accurate background checks with full customer support at all levels.
Background101 provides a full range of professional background investigation services both in the US and internationally. Due diligence investigations include the delivery of the latest data and accurate reports to all qualified businesses, including Fortune 500 companies.
Properly researching potential employees, including volunteers is essential for businesses and organizations wishing to protect themselves from costly hiring mistakes. Background checks can focus on a variety of areas including credit history, criminal records, employment and education verification, and much more.
"Our team works closely with all of our clients to make sure that employee screening is executed efficiently, while it conforms to their expectations at an affordable price," said Amanda Cunha, Vice President at Background101. "We consistently provide the due diligence needed to make sure employers feel completely secure during the hiring process."
Information on individual's background is gathered from a variety of the most reliable data sources available. Once armed with this information, employers can confidently make hiring and screening decisions every time.
The Background101 web-based solution is a powerful tool that enables and supports background check verification, application management and human resources collaboration processes.
Background101 Advantages:
A customized Background101 program helps you know before you hire — all while saving you valuable time and money.
Background101's FCRA compliant screeners are trusted by organizations of every size all over the US. You can be confident that the privacy and personal data of all job candidates and employees is secure.
Our award winning customer support and attention to detail will reduce your risk and increase compliance.
A wide-range of affordable screening services includes:

Address History (up to 20 years)
SSN Verification (all discrepancies examined and reported)
Employment Verification (United States or Internationally)
Education Verification (all levels verified Nationally and Internationally)
National Criminal Database Scan (millions of records in all states)
Motor Vehicle Driving Records (residential and commercial)
Civil Records Search (7-10 years – based on state laws)
Criminal Record Checks (7-10 years – based on state laws)
Bankruptcy Check (U.S. District, Bankruptcy, and Appellate courts)
Sex Offender Registry Search (photos provided when available)
Office of Foreign Asset Control (OFAC) – (sanctions check)
Credit Reports (complete assessment of credit related risk factors)
Professional License Verification (examines all aspects of certification)
About Background101: "Know Before You Hire"
Background101, located in Boston, Massachusetts, has been a trusted and leading provider of background screening information for more than 15 years.
We provide our clients with the information they need quickly, and make it easy for them to submit information and access completed reports. Our team of experienced FCRA compliant screening professionals provides information that is legal, current and accurate.
We partner with our clients during each step of the background research and screening process.
Every background screening program is customized to meet our client's particular requirements— all while saving them valuable time and money.
For more Background101 information, please call Amanda Cunha at 888-746-3463 Ext. 326.