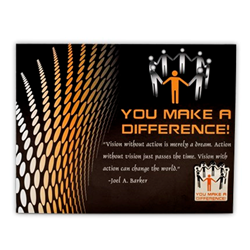 It is very important to me that both management and my co-workers know that I am very grateful and also enthusiastic to come to work everyday.
(PRWEB) March 15, 2016
You know the old apothegm, "You can't please everyone all the time." While this is most certainly true, a well-designed employee recognition and rewards program can genuinely please most employees, thus leading to superior performance and productivity. In fact, recent employee research confirms that displaying gratitude towards employees is essential to creating a committed and dependable workforce. Steve Geyer, Director at PinMart, states, "Recognizing our employees helps drive engagement and boost overall morale."
All employees want to feel as though their presence in the workplace is recognized as well as valued, and it takes much more than flowers, a delightful lunch, or even an increase in compensation. With that being said, PinMart's new Excellence in Service Pins featuring a 3mm genuine Austrian crystal would do just the trick. One can personalize the pin for the recognized individual for the specific amount of year he or she has been with the company.
PinMart's Project Coordinator Josie DiVisio, whose hard work and dedication to the company has been recognized, states, "I am honored to be acknowledged by my superiors at PinMart. It is very important to me that both management and my co-workers know that I am very grateful and also enthusiastic to come to work everyday. I strive to give 110 percent to them, as I do everything in my life. I am delighted to know that PinMart has validated my hard work and dedication as I continue to provide the effort necessary for all of us to succeed. I am grateful to come to work in an ideal family and professional atmosphere. It is a pleasure being part of a team that understands 'the future is ours for the making'. To be trusted and valued is definitely a big incentive!"
Through trial and tribulations comes triumph and throughout the years PinMart has been in business we have finally nailed down what works for us and perhaps our methods could be of some use in your workplace as well. A recognition and rewards program is indeed beneficial. However, don't' dismiss the importance of consistent feedback and candid communication. We have discovered that honest praise evolves into a work environment that is high-functioning and enriches relationships among employees and management.
Here are three ways PinMart shows their appreciation to employees year-round:
1. Stay up to date.
2. Praise publicly, coach privately
3. Ask for feedback
Being appreciative of our employees is one of the easiest and cost-effective ways to improve workplace relationships and constitute an undeniably positive workplace culture. Showing appreciation is without a doubt much more than a once a year occurrence. It's an essential component of first-class management. Show your appreciation for your devoted employees with one of our Excellence in Service pins. Put a smile on their face that is oh so well deserved!
About PinMart: PinMart, Inc. is a privately held company located in Mount Prospect Illinois, a suburb of Chicago, specializing in the design and manufacture of stock and custom emblems, stock and custom lapel pins, and recognition and awareness products. PinMart sells products via its online store and offers custom design and manufacturing. PinMart has taken advantage of its well positioned internet presence and now boasts a client list that includes over 300 of the Fortune 500 companies.