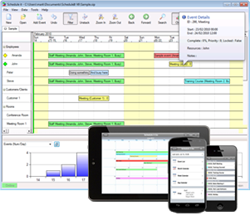 Fantastic tool and friendly UI. It has helped us to massively improve the necessary record keeping as well as all the planning. The business has seen huge improvements since we've implemented this. - Siemens
(PRWEB UK) 5 February 2014
Schedule it, one of the world's most powerful scheduling solutions for businesses, has today announced the debut of a new mobile scheduling app. The new mobile app puts the power, comprehensive capabilities and timesaving abilities of the company's renowned desktop software right on a mobile phone or tablet, and is available for Apple, Android and Windows devices.
Scheduling has always been a source of stress and lost time for managers. When more than a handful of employees must be scheduled, creating, modifying and maintaining accurate schedules is close to a full time job in itself. The more staff members and resources there are, the more difficult the situation becomes. 'Schedule it' has built a reputation for taking the stress and hassle out of the equation through innovative, flexible features and tools that transform this painful, drawn-out process into something streamlined and simple. Now, users can put the power of 'Schedule it' in the palm of their hand.
The new 'Schedule it Go' app is designed as a standalone resource for scheduling multiple staff members. However, it also works as a companion with the company's desktop software and online application, offering full integration and a host of different features that ensure scheduling office and remote workforces is done faster, simpler and easier.
Through the new mobile app, users are able to view their workload, as well as add and update events. In addition, they are able to synchronize events with an online account and their 'Schedule it' desktop software. Additionally, the app can be used in offline mode, and events, schedule changes and other modifications can be added and updated remotely.
To learn more about the new 'Schedule it Go' mobile app or the company's online and desktop applications, visit http://www.ScheduleitInternational.com/.
About Schedule it: Schedule it is used by over 3,500 clients, including IBM, Microsoft, Shell, NHS, Fujitsu, Cisco and more. The company's software provides powerful solutions for employee scheduling and staff planning, resource planning and service scheduling, training course planning and scheduling and more. Used by service and support centers, education facilities, military centers, healthcare providers and many others, 'Schedule it' saves time, stress and money.
To learn more about 'Schedule it', visit http://www.ScheduleitInternational.com/.