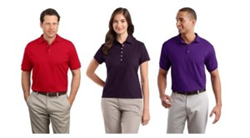 There are several topics to discuss when considering uniforms for hospitality staff.
San Francisco, CA (PRWEB) March 30, 2016
Uniform Solutions for You, the experts in employee uniforms online at http://www.uniformsolutionsforyou.com/, has announced a blog milestone. The company has celebrated a first year anniversary blogging about restaurant, hotel and casino uniform solutions by reaching the important fifty blog milestone. The focus has been about choosing the best service staff attire, and giving busy employers and managers a source for employee uniform ideas online.
"There are several topics to discuss when considering uniforms for hospitality staff," explained Bruce Bagley, founder of Uniform Solutions. "We've already added fifty posts in our first year of blogging about employee uniforms online, so that proves my point. Restaurant and hotel managers understand that an employee uniform not only needs to be functional, but it has to represent the brand. There is a lot to talk about, and we are proud of reaching this milestone."
To review blog postings about employee uniforms online, go to - http://www.uniformsolutionsforyou.com/. Information regarding staff uniform ideas and solutions for casinos, hotels, spas and restaurants are available.
Sample Coverage Areas
The reality is that no two businesses are alike. Uniforms are used in many industries ranging from the casino industry to the hospitality industry to healthcare. In that spirit, the blog posts cover a range of industries, all with the goal of helping the busy employer or manager to brainstorm ideas for good-looking employee uniforms. Some sample topics of the blogs include the following:

Shake Up Your Casino Cocktail Uniforms: the importance of cocktail staff in a Casino, and how good-looking uniforms can set the tone for more gambling and more sales.
Colorful Spring Front Desk Uniforms - with Spring, 2016, on the way, colors have changed. Therefore, looking smart for employees means new Spring fashion in accord with the current trends.
Unique Hotel Doorman Uniform Ideas - the doorman is the first person seen by guests or apartment building residents. Therefore, he or she should look smart.
Employee Uniforms – Are They Right For You? - an important "think piece," on whether employees should be allowed to wear their own clothing, or used uniforms.
In all cases, the focus of the blog is not on self-serving promotion of particular uniforms or brands. Rather, the blog posts focus on "idea-generation," the important yet difficult task of brainstorming a way to use employee uniforms to standardize the look of employees yet create a unique brand image.
Please note that ideas for blog topics are accepted; interested parties can submit them via the website for possible write-ups.
About Uniform Solutions For You
Uniform Solutions for You is a division of Santa Rosa Uniform & Career Apparel, Inc. The division offers employee uniforms online. The division focuses on, but is not limited to, the online sales of employee uniforms in key industries such as; casino, hotel, and restaurant. New hospitality uniform ideas for hotel front desk, wait staff or maid service staff is available. The website has a unique consultation request feature, wherein interested parties can talk with a human uniform 'idea consultant' to brainstorm uniform options for employees.