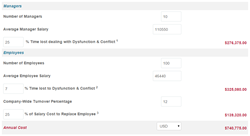 this new version lets visitors fine-tune the inputs to get a clearer indication of how workplace dysfunction impacts their team, department or overall organization
Ft. Lauderdale, FL (PRWEB) March 31, 2015
Satisfaction At Work Inc., providers of the An Even Better Place to Work program, today announced the release of an updated version of its online People Problems Cost Calculator. The enhanced tool is free and improvements include input customization and options to export the results to PDF and Email.
"We are often approached by Executives and HR Professionals who understand the value of improving workplace culture and employee engagement, but need to quantify how current issues are negatively affecting their business and bottom line," said Shea Heaver, Founder and CEO. "They require a quick and simple (yet effective) way to highlight potential areas for productivity and financial improvement within the organization."
Using national average figures, a typical company with 250 employees (25 managers/225 staff) may be losing over $1,700,000 annually to dysfunction, disengagement, conflict, etc… The updated People Problems Cost Calculator gives users the flexibility to adjust pre-populated averages in areas such as
● Annual Salary (for Managers and Employees)
● % of Time Lost to Dysfunction and Conflict (for Managers and Employees)
● Employee Turnover Costs
● Currency
By providing an indicator of how much is lost to unnecessary staff issues (dysfunction, low morale, absenteeism, conflict, disengagement) at all levels of the organization, the business case can be made to implement a program of problem area identification and corrective measures.
Says Heaver, "Our previous calculator provided a figure based on nationwide averages, but this new version lets visitors fine-tune the inputs to get a clearer indication of how workplace dysfunction impacts their team, department or overall organization."
He continues, "In addition, the results can now be retained in hard or soft format for distribution and analysis among management and executives."
This free tool is available on the company's website at http://www.satisfactionatwork.com/resources/people-problems-cost-calculator
About Satisfaction At Work
Satisfaction At Work Inc is dedicated to improving employee engagement and productivity through a powerful business tool that helps organizations get the best from their people. An Even Better Place to Work is a unique, online program of interrelated measures, activities and resources that empowers individuals and their teams to improve the quality of their work life. For more information please visit http://www.satisfactionatwork.com