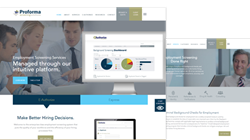 The new website reflects our commitment to making background screening easy, accessible, and compliant for all employers.
Purcellville, VA (PRWEB) June 19, 2014
Virginia-based background screening company, Proforma Screening Solutions, announces the launch of its new website at http://www.proformascreening.com. The site is designed to simplify the ordering of background screening services while providing employers with best practices to improve their hiring processes and decisions.
The website highlights Proforma's employment screening services and emphasizes its unique platform, E-Authorize. The E-Authorize platform gives HR and hiring managers a secure web-based portal from which to order, obtain consent, retrieve, and store background check information for applicants and employees. It also facilitates compliance with a growing set of background screening-related regulations.
The website also features information, tips, and best practices for hiring managers and business owners to reduce human capital risks, improve hiring processes, and stay up-to-date with the latest compliance-related issues.
Other features of the new website include the long-standing employment screening blog with frequently-updated information, whitepapers and guides, links to Proforma's social media profiles, online account access, company information, and detailed descriptions of the company's services.
President and founder of Proforma Screening Solutions, David Lowers, remarks, "We are pleased to introduce our customers and prospective customers to the new Proforma Screening Solutions website which reflects our commitment to making background screening easy, accessible, and compliant for all employers."
About Proforma Screening Solutions
Proforma Screening Solutions is a pioneering firm in the development of cost-effective employment screening tools to help employers make better hiring decisions. Proforma uses innovative applications of cutting edge technology to glean useful information from public (and private) data sources, minimizing the costs of doing so. As a unit of the Lowers Risk Group, Proforma Screening Solutions has access to a full range of risk mitigation practices to offer clients a single point for total enterprise risk management.