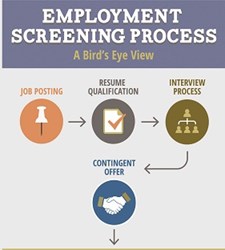 Employers need to be proactive in creating employment screening processes that serve their best interests
Purcellville, VA (PRWEB) November 13, 2013
Proforma Screening Solutions, a unit of the Lowers Risk Group, has published a new infographic that summarizes an employment screening process that will enhance compliance with Equal Employment Opportunity Commission (EEOC) guidance while at the same time helping employers minimize hiring risks by identifying applicants who should be excluded from the hiring pool.
The infographic, Employment Screening Process: A Bird's Eye View, will help employers reconcile the sometimes contradictory regulatory requirements set out by different jurisdictions, including the federal EEOC and state or local entities. The key to this process is to discriminate between acceptable and risky job applicants early in the hiring sequence, and then to apply more individualized assessments to those applicants who are filtered into the risky pool.
This model process will also help employers to manage the higher costs that are caused by compliance based on individualized assessments.
David Lowers, President and CEO of Proforma Screening Solutions, says, "The EEOC has been perfectly clear in pursuing an extreme anti-discrimination policy the past few years, backing up its regulatory rhetoric with legal actions. State and employer push back may eventually reduce this threat, but in the meantime employers need to be proactive in creating employment screening processes that serve their best interests."
In practice, the model screening process laid out by Proforma indicates that employers should conduct the appropriate array of background checks for those applicants who are found acceptable by a preliminary evaluation of their application and an initial interview. Then, based on the results of the background screening, a smaller group of applicants will be filtered into a pool of higher-risk applicants who will be further evaluated on an individual basis. Each employer will need to customize the background screening process to address the specific concerns posed by each type or class of job.
The infographic is available to view at http://bit.ly/employment-screening-process and it can be shared online using the embed code provided.
About Proforma Screening Solutions
Proforma Screening Solutions is a pioneering firm in the development of cost-effective background screening tools to help employers make better hiring decisions. Proforma uses innovative applications of cutting edge technology to glean useful information from public (and private) data sources, minimizing the costs of doing so. As a unit of the Lowers Risk Group, Proforma Screening Solutions has access to a full range of risk mitigation practices to offer clients a single point for total enterprise risk management.