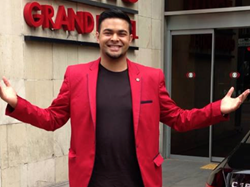 New "Blogging Beast" Is Coming! Let's Ride The Wave Together - Shaqir Hussyin
St. Petersburg, FL (PRWEB) September 28, 2013
Best blogging platform to hit the internet marketing industry by Empower Network is announced. Everyone is rushing to get in on the "New Wave" claims Shaqir Hussyin. Blogging Beast can be found here, http://www.BlogBeastBlueprint.com.
David Sharpe, one of Shaqir Hussyin's closest friends and the founder of Empower Network had this to say:
"Something very big is coming. In just a few weeks, the "Blog Beast" will be unleashed, and when it does... blogging and marketing will never be the same again. With over a year of development, dozens of some of the smartest people working around the clock, and millions of dollars invested - the "Blog Beast" is expected to take the Internet by storm.
New members and serious entrepreneurs all over the world are lining up to join shaqir directly via http://www.empowernetwork.com/?id=secretaccess to take advantage of the done for you traffic service and his fast-track bonuses to capitalise on this new wave of blogging takeover.
"When you start getting into the setup, maintenance and advance features, WordPress really is a difficult pain," said President David Sharpe of Empower Network. "It was designed to be super user-friendly. Over time, it's become more and more complicated. Whether you agree or you don't, we've decided to make blogging easy so anyone could do it, even a grandma who's new to the Internet. Blog Beast is everything WordPress was originally meant to be."
Blog Beast simplifies the audio/video blogging experience by allowing the user to record video or audio with the aid of a mobile app. With two simple clicks, anyone can post a podcast or video online from a smartphone or computer, making Blog Beast essentially "grandma-proof."
Sharing is also easier because Blog Beast allows users to reblog posts from other Blog Beast sites, giving the original author credit, while posting the content within their own blogs. A new proprietary commenting feature allows readers to share blogs and their blog comments on social media platforms with links back to the original blog posts.
Users of Blogging Beast can also withhold premium content with a paywall, which restricts access to such content and offers a call to action for viewers to upgrade their accounts in order to view it.
"We wanted to create an atmosphere where no matter where you are and what your idea is, you can put it on your blog when inspiration strikes," Sharpe said. "That's one of the many ways we are changing the viral blogging industry. Imagine building and managing a business from your phone."
Other features available through Blog Beast are training on blogging, marketing and leadership, as well as a customer relationship management system that allows a user to access his or her back office, view sales and transactions as well as send email blasts to customer groups.
The Blog Beast price is only $25 per month, the same as the current Empower Network blogging system, while still in the pre launch phase. Empower Network will automatically migrate all existing customers to its new platform on Oct. 11th. Empower Network also offers an affiliate compensation plan to its nearly 30,000 active affiliates, and that number is expected to rise dramatically with this new system release.
A soft launch of Blog Beast is now available and for a limited time. Anyone interested in using Blog Beast before the public launch must purchase it before the Oct. 11 launch date. After that, Empower Network will disable orders until the mid-October public launch. Blog Beast orders will go live again on Oct. 18. The order cart will shut down again on Oct. 28 and there has been no predetermined date as to when it will reopen.
Details are revealed on this site, http://www.BlogBeastBlueprint.com.
Empower Network and it's Viral Blogging System is the lucrative solution to a complicated online marketing world. Over 155,000 people agree.
An official invite can be found on the Empower Network website via this link: http://www.empowernetwork.com/?id=secretaccess.