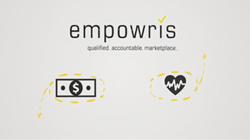 It's a seamless, cost-effective way to provide them with a broad choice of valuable programs that best meet their individual needs and preferences.
(PRWEB) February 04, 2014
Industry-leading corporate health and wellness programs provider, Empowris, today announced the broad launch of the Empowris Marketplace. After closing out a successful 2013 – and garnering an Industry Innovator award from the Institute for HealthCare Consumerism – the company prepares for another strong year as it develops its network in select US markets.
Empowris initiated the roll-out of its unique, community-based programs with a recent market launch in Louisville, Kentucky, along with employee participation in both Mississippi and Texas. The Marketplace provides employers and their employees with access to qualified weight management programs that focus on the areas of physical activity, diet and nutrition, and lifestyle and behavioral changes. These programs have been carefully designed by Empowris to boost employee satisfaction, morale, and productivity through improvement in overall health.
Each program is pre-qualified in its corresponding market to ensure its functionality and ability to deliver results. Upon implementation, Empowris closely tracks individual employee participation and progress, using its custom software application to aggregate the data into a detailed quarterly report for employers to review. This process allows the Empowris Marketplace to provide a highly effective, highly accountable way for companies to have a hand in enhancing the health and well-being of their employees.
"We are excited to offer our employees and their spouses access to the Empowris marketplace," said Karen Hicks, Vice President of Human Resources at Kentucky-based Empowris client, Zeon Chemicals Inc. "It's a seamless, cost-effective way to provide them with a broad choice of valuable programs that best meet their individual needs and preferences."
Additional information on this innovative approach to weight management in the workplace is available through info(at)empowris(dot)com.
About Empowris LLC
Empowris offers a new approach to corporate health and wellness programs - a qualified, accountable marketplace of a community's top weight management programs, designed to drive employee engagement and healthy outcomes. Through the application of best practice guidelines, Empowris ensures that employees are using programs designed for results.
Empowris was founded by its parent company HSM, Inc. in 2010. HSM is a specialty healthcare management services company providing cost management solutions to health plans, third-party administrators, health insurance, and workers' compensation carriers. Having almost 30 years of experience in managing networks and controlling medical claims costs, HSM – in consultation with the University of Minnesota's School of Public Health – established Empowris, LLC to offer employers a targeted solution for reducing health care costs and improving employee productivity with a focus on wellness, specifically weight management.
For more information on Empowris, please visit the company website at http://www.empowris.com.