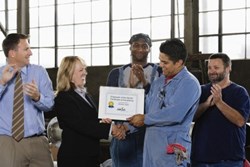 The automated records can be retrieved whenever needed, because it is stored in the cloud, effectively traveling with the patient to provide continuity of care.
Denville, NJ (PRWEB) September 14, 2013
"Electronic medical records have benefits that extend throughout every aspect of the practice and far beyond for patients. In a mobile society, EMR provides a vehicle to manage client care across the nation, no matter where patients travel," said Chhoda.
He noted that essential health information is available immediately with an EMR, providing critical patient data from virtually any location because most of the individuals in today's society journey extensively and relocate for a wide variety of reasons. Natural disasters can occur with little or no warning and in an emergency situation, an EMR can speak for patients when they're too injured or traumatized to answer for themselves.
EMRs can be accessed by any healthcare provider with an Internet connection and they're updated immediately to reflect the client's most accurate information. These physical therapy documentation systems are digital healthcare records of a client's medications, surgeries, health risks, allergies and diagnostic tests. The automated records can be retrieved whenever needed, because it is stored in the cloud, effectively traveling with the patient to provide continuity of care.
Unlike old-fashioned paper records, electronic documentation can't become lost or misplaced should a medical provider retire, relocate or die. In the event of a fire, flood or natural disaster, EMR documentation remains a constant that can be accessed by any number of medical professionals to coordinate and provide vital care immediately. Costly and unnecessary medical testing is eliminated, allowing treatment to commence sooner.
The physical therapy software systems provide automated documentation that can be accessed across the nation to ensure quality and continuity of care anytime it's needed. EMRs provide inclusive documentation about every facet of a patient's health. Chhoda's new information provides healthcare professionals with new insight into the extended benefits of an EMR for patient care and management in and out of the office.
Chhoda's office can be reached by phone at 201-535-4475. For more information, visit the website at http://www.emrnews.com.
About Nitin Chhoda
Nitin Chhoda PT, DPT is a licensed physical therapist, a certified strength and conditioning specialist and an entrepreneur. He is the author of "Physical Therapy Marketing For The New Economy" and "Marketing for Physical Therapy Clinics" and is a prolific speaker, writer and creator of products and systems to streamline medical billing and coding, electronic medical records, health care practice management and marketing to increase referrals. He has been featured in numerous industry magazines, major radio and broadcast media, and is the founder of Referral Ignition training systems and the annual Private Practice Summit. Chhoda speaks extensively throughout the U.S., Canada and Asia. He is also the creator of the Therapy Newsletter and Clinical Contact, both web-based services to help private practices improve communication with patients, delivery better quality of care and boost patient retention.