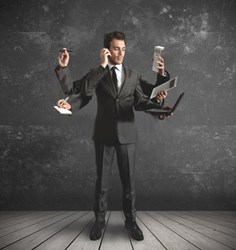 Therapists have all the necessary information before the patient's appointment, allowing individuals to be seen quicker.
Denville, NJ (PRWEB) October 10, 2013
"Clients very much appreciate convenience. They don't like long waits in the office," said Chhoda. "Improving the patient experience should be a goal for every practitioner. Those who fail to do so will find their patients going elsewhere."
The biggest boon for therapists who want to attract and retain patients is an integrated EMR. The systems provide the means to reduce patient wait times, complete essential forms from the comfort of home, and pay balances online whenever it's convenient.
Clients can also interact with their therapist online, view test results and request medication refills with their home computer, laptop and virtually any mobile device.
Chhoda said that EMR technology handles much of the intake work traditionally completed in the office waiting room. Health histories and insurance information can be completed online at the client's convenience. Patients no longer have to spend time filling out paperwork in the office and reviewing all records to process physical therapy documentation. Therapists have all the necessary information before the patient's appointment, allowing individuals to be seen quicker.
Based on the coverage, caps and limitations of the client's insurance, therapists can provide creative and effective treatments for better patient outcomes within the boundaries of the client's healthcare policy. Collecting insurance information online expedites the reimbursement process for the clinician and allows coverage to be verified prior to the appointment.
Chhoda added than an EMR platform provides multiple methods of medical billing for patients to pay their outstanding balances online, utilizing credit or debit cards and bank accounts. Individuals have the option of making recurring or one-time payments any time of the day or night. It's convenient for clients and provides increased cash flow for clinicians.
Chhoda's new information on EMRs provides key points well worth considering by clinicians who want to compete successfully. EMR technology provides multiple tools to improve the overall patient experience. Chhoda said it's important to note that happy clients establish long-term relationships with their practitioners and become a number one resource for referrals.
Chhoda's office can be reached by phone at 201-535-4475. For more information, visit the website at http://www.emrnews.com.
About Nitin Chhoda
Nitin Chhoda PT, DPT is a licensed physical therapist, a certified strength and conditioning specialist and an entrepreneur. He is the author of "Physical Therapy Marketing For The New Economy" and "Marketing for Physical Therapy Clinics" and is a prolific speaker, writer and creator of products and systems to streamline medical billing and coding, electronic medical records, health care practice management and marketing to increase referrals. He has been featured in numerous industry magazines, major radio and broadcast media, and is the founder of Referral Ignition training systems and the annual Private Practice Summit. Chhoda speaks extensively throughout the U.S., Canada and Asia. He is also the creator of the Therapy Newsletter and Clinical Contact, both web-based services to help private practices improve communication with patients, delivery better quality of care and boost patient retention.