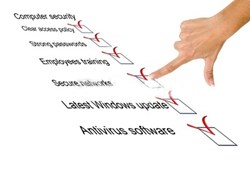 Traditional methods which require weeks or even months from the time they're submitted until funds are deposited in the clinic's account are minimized.
Denville, NJ (PRWEB) August 20, 2013
"There are so many advantages to implementing an EMR, it's hard to choose just five," said Chhoda. "However, let me reiterate that an EMR for physical therapy services offers much more than enhanced patient care. The top five benefits will help practice owners grow their practice now and in the future."
EMRs assist practitioners with tools and information needed in order to save time, money, effort and staffing. It's an environment-friendly solution that preserves natural resources and drastically reduces the need for sources of papermaking materials and oil to transport products. Chhoda indicated the following top five benefits for implementing an EMR.
1. Reducing risk factors – The patient portals offered with EMRs allow clinics to verify insurance eligibility and coverage before patients arrive at the office, ensuring practice owners are adequately compensated for their services. Clients that aren't likely to follow prescribed treatment and those inclined to self-terminate their care are easily identified through patient portals.
2. Better financial resources – Electronic reimbursements arrive at clearinghouses and insurance companies almost instantly. Traditional methods which require weeks or even months from the time they're submitted until funds are deposited in the clinic's account are minimized. Claims can be submitted individually, or automated for submission at the end of the day. Physical therapy EMR also provides the means for clinic owners to identify and contract with the best payers for better cash flow for all areas of the practice. Denials and requests for further information are handled quickly, efficiently and electronically.
3. Marketing metrics – EMRs offer powerful tools that allow therapists to market their practice with increased success. Marketing efforts can be tracked and the focus narrowed to reach target demographics. Clinic owners can also use their EMR to ascertain where referrals originate and how many referred clients follow through with an appointment.
4. Increased productivity – An EMR can be used to determine where staff can best be deployed, or if the clinic is over- or under-staffed. Communications with clients can be automated, freeing staff to concentrate on other tasks and treating more patients.
5. Easy access – Complete patient records can be accessed from any location equipped with an Internet connection, allowing therapists to work from the clinic, home, spas and corporate venues. Treatment can be initiated quicker and duplication of tests is eliminated.
Physical therapy documentation software affects every facet of a physical therapy practice to streamline procedures, initiate treatment faster and significantly increase cash flow. The new top five benefits offered by Chhoda's provide physical therapists with some of the most compelling benefits of implementing a physical therapy EMR. Clinic owners enjoy a more profitable practice and patients receive a superior level of treatment and care.
Chhoda's office can be reached by phone at 201-535-4475. For more information, visit the website at http://www.emrnews.com.
ABOUT NITIN CHHODA
Nitin Chhoda PT, DPT is a licensed physical therapist, a certified strength and conditioning specialist and an entrepreneur. He is the author of "Physical Therapy Marketing For The New Economy" and "Marketing for Physical Therapy Clinics" and is a prolific speaker, writer and creator of products and systems to streamline medical billing and coding, electronic medical records, health care practice management and marketing to increase referrals. He has been featured in numerous industry magazines, major radio and broadcast media, and is the founder of Referral Ignition training systems and the annual Private Practice Summit. Chhoda speaks extensively throughout the U.S., Canada and Asia. He is also the creator of the Therapy Newsletter and Clinical Contact, both web-based services to help private practices improve communication with patients, delivery better quality of care and boost patient retention.