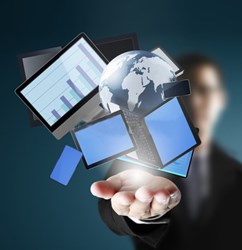 Clinics will experience some loss of efficiency during the learning phase, but once staff members are familiar with the EMR practice owners will see an increase in revenues and staff productivity.
Denville, NJ (PRWEB) October 18, 2013
"An EMR should be chosen with extreme care," said Chhoda. "The technology is going to bring about significant changes within the clinic and the EMR should be specific to a physical therapy practice. Those who purchase a one-size-fits-all solution will find an office filled with chaos instead of a model of efficiency, productivity and profitability."
Inability to Monitor Productivity
When private practice staffs have the proper training in the use of an EMR, the entire patient process is accelerated. Services can be offered to a greater number of clients and patient loads can be increased.
Chhoda noted that the primary reason given by clinic owners for not implementing an EMR is downtime. Clinics will experience some loss of efficiency during the learning phase, but once staff members are familiar with the EMR practice owners will see an increase in revenues and staff productivity.
EMRs vs. End-to-End Systems
Most individuals refer to the systems simply as an EMR, but Chhoda noted that electronic medical record is only one facet of a multi-dimensional tool for complete practice management. Instead of a system that just offers EMR capabilities, practice owners should strive for an integrated end-to-end system that allows practitioners to monitor and control every aspect of their clinic with a minimum of effort.
EMRs That Fail to Optimize in Tablets
Mobility is one of the greatest and latest advantages of an EMR and they can be implemented on tablets, but clinicians should beware of vendors claiming iPad compatibility when all they really have to offer is a mobile website that can be accessed with an iPad browser. "It's one of the great myths in physical therapy EMRs," said Chhoda. "A mobile website can be accessed on an iPad, but it's not the same as an application designed specifically for an iPad."
Patient Encounters That Aren't Optimized
According to Chhoda, an integrated EMR streamlines the workflow in every department of a clinic, from the initial client contact to patient follow-ups. The physical therapy software should collect patient and insurance information online, resulting in shorter waits in the office, treatments that can begin quicker, and a faster reimbursement turnaround.
Unsecured Communications and Collections
A comprehensive EMR allows clinics to contact clients through phone, email, text and voice messaging. It also provides patients with the ability to pay balances online using credit or debit cards, or through their bank accounts. Practitioners should forgo any EMR that doesn't include a secure means of communicating with patients and an online payment collection system.
Choosing an EMR is a decision that has far-reaching consequences for any clinic and Chhoda's new information is specifically designed to help practitioners avoid the top five most dangerous mistakes when choosing an EMR. The new data provides therapists with the information needed to steer clear of inferior products and utilize their EMR to the fullest to increase profitability, productivity and efficiency.
Chhoda's office can be reached by phone at 201-535-4475. For more information, visit the website at http://www.emrnews.com.
About Nitin Chhoda
Nitin Chhoda PT, DPT is a licensed physical therapist, a certified strength and conditioning specialist and an entrepreneur. He is the author of "Physical Therapy Marketing For The New Economy" and "Marketing for Physical Therapy Clinics" and is a prolific speaker, writer and creator of products and systems to streamline medical billing and coding, electronic medical records, health care practice management and marketing to increase referrals. He has been featured in numerous industry magazines, major radio and broadcast media, and is the founder of Referral Ignition training systems and the annual Private Practice Summit. Chhoda speaks extensively throughout the U.S., Canada and Asia. He is also the creator of the Therapy Newsletter and Clinical Contact, both web-based services to help private practices improve communication with patients, delivery better quality of care and boost patient retention.