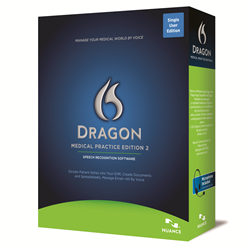 We are so excited to be offering these amazing technologies to the medical community
Atlanta, GA (PRWEB) December 04, 2014
EMR Consultants has announced the compatibility of Dragon® Medical Practice Edition 2 with advanced push technology and middleware software that sits on top of the EHR/EMR database platform. These real-time communication technologies leverage the benefits of speech recognition by allowing physicians more proactive access to comprehensive patient data by implementation of a subscription model that pushes important information to the entire team.
"We are so excited to be offering these amazing technologies to the medical community," said Tiffany Casper, President of EMR Consultants. "Our goal is always to support better communication and patient documentation, and these advances make it possible."
Dragon Medical Practice Edition 2 is the most advanced speech recognition solution available for medical professionals to date. With over 90 medical specialty and subspecialty vocabularies included in the software, even the most complex terminology and phrasing is transcribed with more than 99% accuracy right out of the box. Dragon Medical Practice Edition 2 helps clinicians overcome the frustrations associated with EHR/EMR adoption by speech-enabling navigation and searches with customizable macros. Physicians can speak in their own words to document comprehensive patient notes that give them more confidence when coding and ultimately lead to higher reimbursement levels.
EHR/EMR systems are recognized in the medical community as passive systems that offer no data analysis or push technology for presenting the right information to clinician at the right time. This makes it necessary for medical professionals to conduct extensive searches through multiple EHR/EMR databases, trying to locate patient information. In an emergency setting, this process allows critical, lifesaving seconds to tick away. Records confusion is another alarming concern in the healthcare setting that can lead to life altering medical errors. Push technology and middleware software can help overcome these issues when used with powerful speech recognition technology like Dragon Medical Practice Edition 2, ensuring that critical patient data is not missed.
For more information about Dragon Medical Practice Edition 2 and the technology being created by 2.0 healthcare providers like Zoeticx®, visit: http://contactemr.com/contact-us/
About EMR Consultants:
EMR Consultants is proud to offer Dragon Medical Practice Edition 2 voice recognition software into medical practices with and without an EHR/EMR. We begin with a consultation and workflow assessment. We provide all Dragon Products and Certified Trainers. We are certified trainers in both Dragon and NoteSwift™ program applications.